Here's Why the Mobile World Is Getting Smarter in 2013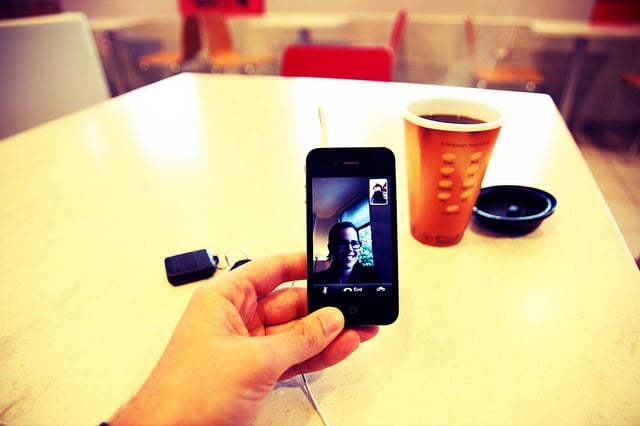 It's no secret that smartphones have officially taken the world by storm, and they're proving it once again with the latest report by the International Data Corp.
While smartphones used to be reserved for the hands of the high and mighty, they're now products that can be found in the pockets of most people. Thanks to strong growth in emerging markets and bolstered efforts to break into the sub-$200 smartphone segment, more and more consumers are ordering these devices without having to break the bank.
Now, the IDC is refining its market forecast to follow suit, and it predicts that worldwide smartphone shipments will exceed 1 billion units by the end of 2013, marking the first time shipments have surpassed the 1 billion benchmark in a single year. In addition, the IDC expects the worldwide phone market to grow 7.3 percent year over year in 2013; it also forecasts worldwide smartphone shipments to grow 40 percent during the year.
Ramon Llamas, a research manager with IDC's mobile team, said: "Two years ago, the worldwide smartphone market flirted with shipping half a billion units for the first time — to double that in just two years highlights the ubiquity that smartphones have achieved. The smartphone has gone from being a cutting-edge communications tool to becoming an essential component in the everyday lives of billions of consumers."
That's why the IDC is modifying its initial 2013 projection of 5.8 percent year-over-year growth to 7.3 percent. That adjustment was in part spurred by stronger-than-expected first-half growth the market witnessed as more vendors saw increased demand in emerging markets. Now that smartphone prices are becoming more reasonable, more consumers from both emerging and well-developed countries are reporting increased interest in the investment, and carriers are finally bearing the fruits of their labor.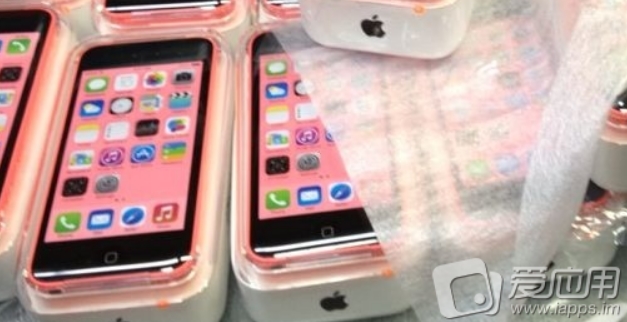 Apple (NASDAQ:AAPL) is one example of a well-known smartphone maker that's in the process of ensuring its device offerings include a low-cost smartphone. The Cupertino, California-based company is expected to unveil a new low-cost iPhone at its highly anticipated Tuesday event, and many other competitors are also predicted to follow suit, putting even more low-price offerings on the table.
The ubiquity of smartphones is forecast to continue in an upward trend, and now that vendors are increasing their shipments, the IDC has worldwide smartphone shipments surpassing 2.3 million phones by 2017. That increase reflects a sharp growth rate rebound and illustrates the turn the market has taken since 2012, when it experienced a nearly flat 1.2 percent growth rate.
The company at the top of smartphone game is always in question, but for now, the IDC has Samsung Electronics (SSNLF.PK) pegged at the No. 1 spot with its popular Android (NASDAQ:GOOG) operating system. The IDC believes Google's Android will continue to hold its dominant smartphone operating system status, with Apple's iOS system at No. 2, followed by Microsoft (NASDAQ:MSFT) Windows Phone and BlackBerry's (NASDAQ:BBRY) BlackBerry 10 OS.
It's still unclear what the future holds for Microsoft and Blackberry, but what remains evident is that their shares won't hold a candle to either Android or iOS's dominance.
By 2017, the IDC expects Android's market share to dilute to 68.3 percent from its current 75.3 percent, forecasting Apple's iOS market share to increase 1 percentage point from its current 16.9 percent to 17.9 percent.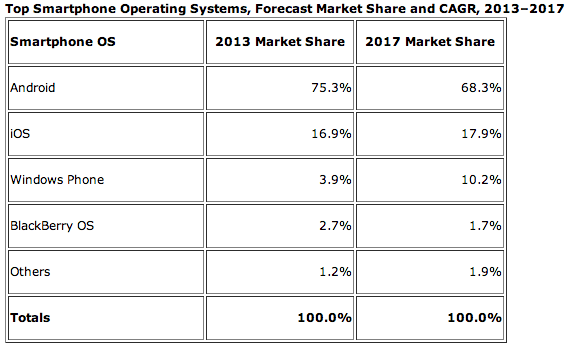 It's therefore clear that smartphones' grip on the consumer world is here to stay.
As Kevin Resitvo, a senior research analyst with IDC's Worldwide Mobile Phone Tracker program, explains: "Smartphones will represent virtually all of the mobile phone market in many of the world's most developed economies by the end of 2017. Aggressive carrier subsidies of handsets, falling prices, higher consumer awareness, and a vast array of devices will mean almost all phones shipped to the developed world will be 'smart.' However, smartphone shipment volume will be dominated by emerging markets, such as China, even though the percentage of smartphones to feature phones won't be as high."