Here's Why the Next 90 Days Will Be Good for Apple
How demand for Apple's (NASDAQ:AAPL) iPhone may have changed has been the main point of debate these last few days, with the company's stock choosing to take the side of the doubters. But according to a new consumer survey, all those naysayers may be wrong in their dismissal of the Apple smartphone's future. Apple optimists may have taken a second look at the new consumer survey today as the stock rebounded strong 4.15%: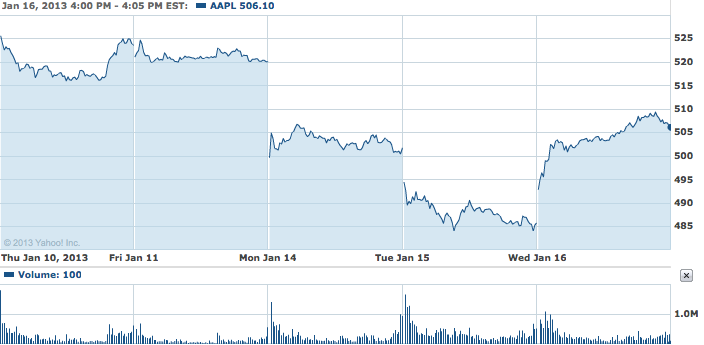 A ChangeWave Research survey in North America found that 1 in 2 smartphone shoppers planned on buying an iPhone in the next 90 days. This was down from the overwhelming 71 percent figure last quarter, but that standout result came when the excitement for the then-newly launched iPhone 5 was at it peak. "Historically speaking, it's a solid showing for Apple," the research firm said, and it equals the level of demand for the device from last summer.
Should you buy or sell Apple's stock ahead of earnings in a few days? Our 20-page proprietary analysis will help you save time and make money. Click here to get your SPECIAL REPORT now.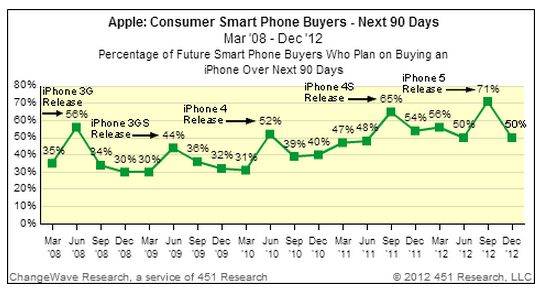 A somewhat worrying point for Apple from the survey results was the fact that the demand for Samsung (SSNLF.PK) devices was at an all-time high. About 21 percent of users want their next phone to be a Samsung product, up from 13 percent last quarter, courtesy of an "explosive wave of momentum" for the Korean manufacturer.
Of the Samsung hopefuls, 69 percent are looking to buy the Galaxy S III, while 23 percent are lusting after the 5.5-inch Galaxy Note II, which was launched last month. The phablet phenomenon, of which the Note is a part, is definitely gathering pace. About 27 percent of those surveyed want their smartphone screen to feature a five-inch or larger display. But there was another area where Apple won hands down…
Asked how satisfied smartphone owners were with their current device platform, Apple's iOS came out on top. About 71 percent of iPhone users said they were very satisfied. Surprisingly, Microsoft's (NASDAQ:MSFT) Windows Phone took the second spot with a 53 percent satisfied section of users. Google's (NASDAQ:GOOG) Android was third with 48 percent very satisfied users and Research In Motion's (NASDAQ:RIMM) BlackBerry was next with 26 percent happy users.
Start 2013 better than ever by saving time and making money with your Limited Time Offer for our highly-acclaimed Stock Picker Newsletter. Click here for our fresh Feature Stock Pick now!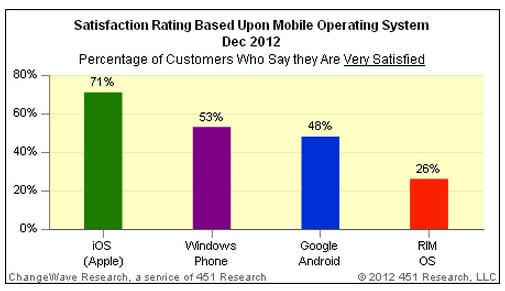 In terms of devices, 70 percent of iPhone users were happy with their phone. About 56 percent of Nokia (NYSE:NOK) users said they were satisfied, a little higher than the 55 percent figure for Samsung.
Don't Miss: Can Apple's Earnings Fix Its Broken Stock?