Hey, Hedge Fund Managers Still Love Apple!
Despite some well-publicized hedge fund managers' abandonment of Apple (NASDAQ:AAPL) in their latest 13F filings, it appears that the Cupertino-based company is still a favorite tech stock pick for many others. Many investors and analysts reacted prematurely to the news that some prominent investors had drastically cut their stake in the iPhone maker. This resulted in a 3.4 percent drop in the stock on Wednesday, as other investors followed these large hedge fund mangers' lead.
David Tepper — the billionaire manager of the Appaloosa Management hedge fund — was one major investor who cut his stake in Apple by 41 percent in the first quarter of this year. George Soros' Soros Fund Management also substantially reduced its stake in Apple to a 0.66 percent stake. Julian Robertson's Tiger Management went even further, selling all of its 42,125 Apple shares that it held at the end of last year.
However, despite the high profile of these money managers, it is wise to remember that they only manage a fraction of the more than 8,000 total hedge funds that exist in the industry. MarketWatch notes that Apple is still held by 148 of the top-tier hedge funds in the first quarter 2013.
Apple also has its fair share of celebrity hedge fund manager boosters. David Einhorn — who is familiar to many Apple watchers as the activist investor who sued the company earlier this year in an attempt to push Apple to return more capital to shareholders — increased Greenlight Capital's (NASDAQ:GLRE) stake in Apple by a staggering 83 percent. Ken Fisher of Fisher Asset Management increased his Apple position by 58 percent.
So, everyone take a deep breath. Apple is still a premium technology stock that will most likely remain in the majority of hedge funds' equity portfolios for at least another quarter.
Here's how Apple has traded so far this week.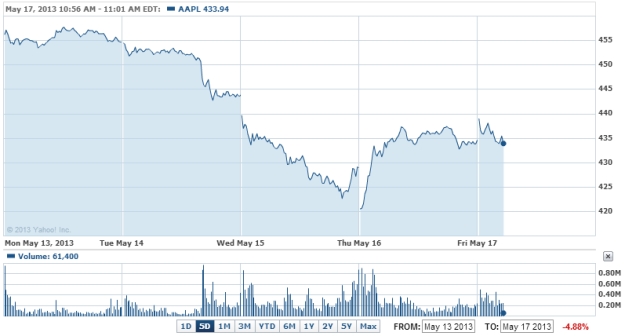 Follow Nathanael on Twitter (@ArnoldEtan_WSCS)
Don't Miss: Is Apple Losing This Huge Market to BlackBerry and Samsung?