Hot & Cold: Netflix Surges 7%, Verizon and Apple Skip Market Rally
Shares of Netflix (NASDAQ:NFLX) surged more than 7 percent on Monday. The streaming-media company signed its largest content deal in history with DreamWorks Animation (NASDAQ:DWA). With this deal, Netflix significantly added to its growing stockpile of exclusive video. The partnership will result in 300 hours of original programming, in what might be the biggest commitment yet to bring Hollywood-caliber content to the Internet first. The shows will be inspired by well-loved characters from DreamWorks franchises like Shrek, or based off of new feature films. The first series are expected to be released in 2014, according to a joint press release.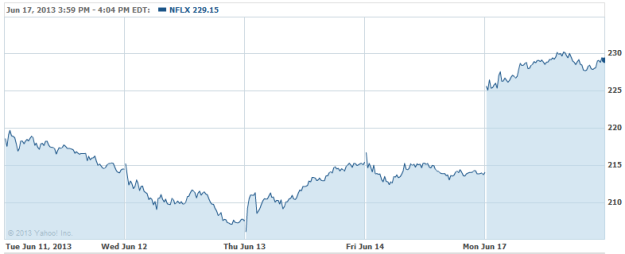 Verizon Communications (NYSE:VZ) shares did not participate in the broad market rally and continued to edge lower in late afternoon hours. Verizon Wireless is reportedly looking to buy the small Canadian wireless provider Wind Mobile, as the country seeks to create more competition within its wireless market that consumers say is too expensive and lacking in choice. Other major wireless providers including AT&T (NYSE:T) and Britain's Vodafone (NASDAQ:VOD) have been considered as possible investors, but Verizon is seen as being the most likely buyer.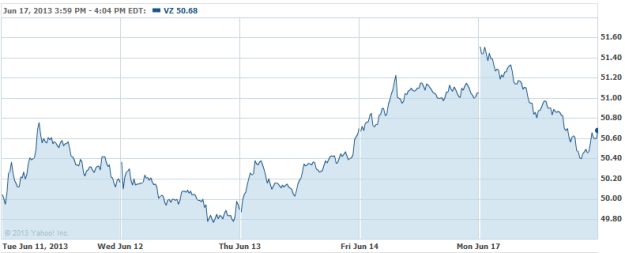 Shares of Ford Motor (NYSE:F) increased more than 1 percent on Monday. On a visit to the southern Indian city Chennai, Monday, Alan Mulally, chief executive officer of Ford Motor, made some important forecasts, Reuters reports. Consumers should expect to see more Ford vehicles exported from India, such as the EcoSport compact crossover, that is expected to be launched from Chennai in late 2013 for the European market. The U.S. automaker is shifting its energy overseas where it is working to streamline efforts, accelerate product development, and cut costs by using global platforms.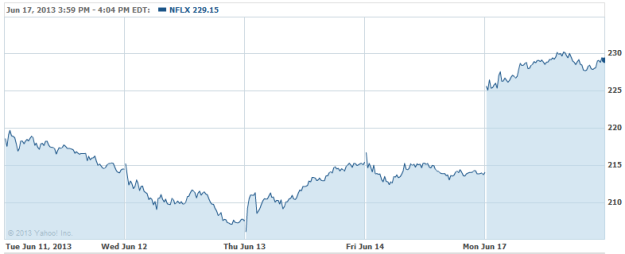 Apple (NASDAQ:AAPL) shares edged only slightly higher on Monday and in late afternoon trading. After receiving permission from the government to share information, Apple issued a statement on Monday clarifying its position in the NSA debacle. "Two weeks ago, when technology companies were accused of indiscriminately sharing customer data with government agencies, Apple issued a clear response: We first heard of the government's 'PRISM' program when news organizations asked us about it on June 6. We do not provide any government agency with direct access to our servers, and any government agency requesting customer content must get a court order." To be clear, this means that Apple has shared some information at the government's request. The company explains, "From December 1, 2012 to May 31, 2013, Apple received between 4,000 and 5,000 requests from U.S. law enforcement for customer data. Between 9,000 and 10,000 accounts or devices were specified in those requests."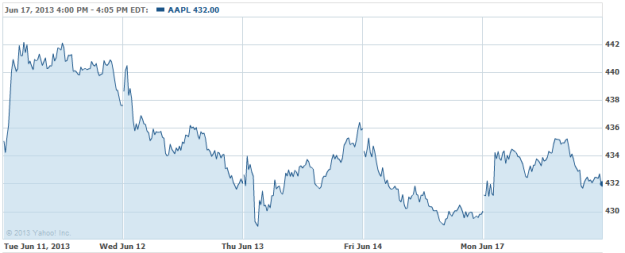 Don't Miss: 5 Dividend Stocks Approved By Warren Buffett
Follow Eric on Twitter (@Mr_Eric_WSCS)