How Apple Is Changing Your Grocery Shopping Experience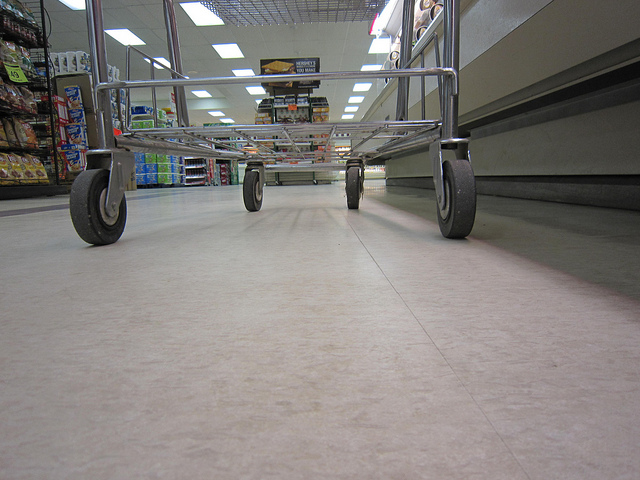 Advertising company InMarket has started rolling out its use of Apple's (NASDAQ:AAPL) iBeacon indoor positioning system technology in conjunction with its Checkpoints app across 100 grocery stores in Cleveland, Seattle, and San Francisco, with plans to expand to hundreds more locations as the year progresses, according to a report from Apple Insider.
The use of iBeacon with the Checkpoints app will send push notifications to iOS devices when a shopper enters the grocery store. Those notifications could include shopping list reminders, coupons, and information about discounts the store is offering at that particular time. The ultimate goal for InMarket is to use the app to send location-based advertisements to shoppers.
"This has the potential to disrupt the retail experience as we know it," InMarket CEO Todd Dipaola told Apple Insider. "Think about all of the benefits of online shopping, but applied to the real world. Shopping list reminders, specific coupons tailored to things you like, eventually mobile checkout. We're in the top of the first inning right now with iBeacon, so the possibilities are very exciting."
InMarket wants to install the technology in thousands of locations across the top 20 markets in the United States by the end of 2014. Apple's indoor position system technology was more appealing than other options because iBeacon makes things easier for both retailers and consumers, according to the advertising company. The hardware needed for the system is "barely larger than a quarter," Dipaola said to Apple Insider, and iBeacon automatically starts sending notifications to users' phones when they enter a store without that person having to do anything to get it started.
IBeacon is sensitive enough to determine which aisle a grocery shopper is in, so Checkpoints could show customers the deals in the specific locations where they are in the store. Apple itself uses the technology at its retail locations, and Macy's (NYSE:M) uses iBeacon at its stores in New York and San Francisco.
Though there's lots of excitement surrounding iBeacon, which is much more accurate indoors and less battery draining than GPS, the current iterations of the technology aren't all that impressive. A reporter from Bloomberg Businessweek tested the technology at Macy's in Manhattan, and found that all it did was welcome him to the store each time he got close to an entrance.
While privacy concerns are always a question when it comes to technologies that can pinpoint a user's location, if users can be targeted to receive promotions for the groceries they need as they are standing in front of them in the supermarket aisle, the potential to save money may outweigh uneasiness about privacy.
More from Wall St. Cheat Sheet:
Follow Jacqueline on Twitter @Jacqui_WSCS