How Are Twitter, Google, and Facebook All Beating Apple?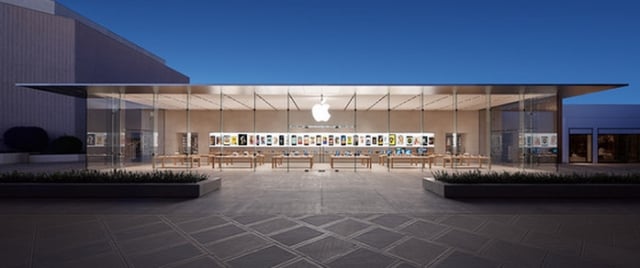 Twitter (NYSE:TWTR), LinkedIn (NYSE:LNKD), Facebook (NASDAQ:FB), and Google (NASDAQ:GOOG) have all soundly beaten Apple (NASDAQ:AAPL) in Glassdoor's annual 50 Best Places to Work list. Apple came in near the bottom, at 35th, falling from the 34th spot the company saw last year and the No. 10 ranking it reached in 2011.
Glassdoor creates a list of the top 50 companies to work for in the United States based on about 50,000 employee reviews received over the course of the year. Apple Insider rerports that even though Apple has fallen to the bottom fourth of the list, it is still the 16th-ranked tech company.
The companies are scored on a five-point scale, and Apple received a 3.8 based on reviews from 2,554 employees. CEO Tim Cook got a 92 percent approval rating from workers.
Glassdoor creates review highlights based on keywords found in positive and negative feedback about the company. Employees at Apple like their hours, benefits, co-workers, and the chance to work for such a high-profile company. They don't like how difficult it is to achieve a work/life balance at Apple or the long hours they're forced to work around product launches.
No. 1 on the list was consulting firm Bain & Co., followed by Twitter and LinkedIn at two and three, respectively. Facebook was fifth, and Google came in at No. 8. Social media companies therefore dominated the top 10 of Glassdoor's list.
Of the companies in the top 10, Apple competes most directly with Google. While reviews compiled for Glassdoor's survey said employees love Google's fast-paced work environment, free food, and interesting projects, a Quora thread from earlier this year laid out some of the downsides of working for Google.
Complaints included stuck-up colleagues, the practice of hiring over-qualified people for easy jobs, overall boredom with the tasks at hand, and difficulty with feeling like an individual's voice can be heard or make change at such a large company.
Despite its ranking at 35th, Apple came in ahead of well-known companies like Starbucks (NASDAQ:SBUX), FedEx (NYSE:FDX), and Walt Disney Co. (NYSE:DIS)
Follow Jacqueline on Twitter @Jacqui_WSCS
Don't Miss: 10 Greenest Tech Companies in the U.S.