How Bad is Apple's Latest Fall?
Apple (NASDAQ:AAPL) can't buy buyers. The company's share price slipped below the $500 mark to a low of $483.80 on Tuesday, down another three percent after falling 3.6 percent on Monday on reports that it was seeing lower-than-expected iPhone demand.
Should you buy or sell Apple's stock ahead of earnings in a few days? Our 20-page proprietary analysis will help you save time and make money. Click here to get your SPECIAL REPORT now.
While several company bulls tried to calm fears by insisting Apple's lowered iPhone component orders — stated as the primary proof of falling device demand — were a consequence of improved yields and hence better margins, investors had other ideas. The fall to $501.75 on Monday was its lowest point in 11 months and wiped out $17 billion from the stock markets, pushing two benchmark indexes into negative territory. The S&P 500 Index dropped 1.37 points, or less than 0.1 percent, at 1,470.68, while the Nasdaq Composite Index lost 8.13 points, or 0.3 perent, to 3,117.50. Apple has a 3.8 percent weight in the S&P 500 and a 10 percent weight in the Nasdaq, and is the largest stock on both.
Here's a look at Apple relative to the S&P 500 Index and Nasdaq Index over the past year: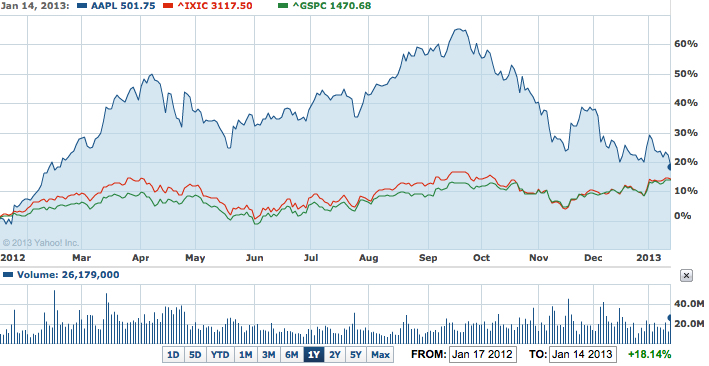 The company's stock has been hit with a downward trend over the last several months, having dropped nearly 30 percent from September 19 when it hit an all-time high of $702.10. Apple has also missed earnings estimates in three of the past five calendar quarters, including the past two. It reports results for its fiscal first quarter on January 23.
Start 2013 better than ever by saving time and making money with your Limited Time Offer for our highly-acclaimed Stock Picker Newsletter. Click here for our fresh Feature Stock Pick now!
"We're getting close to saturation," James Cordwell, an analyst at Atlantic Equities Service, told Bloomberg. "The real growth is going to come from emerging markets, and Apple's share in emerging markets is much lower than it is in other markets at the moment due to such high prices." Cordwell rates Apple shares Overweight and doesn't own any.
Don't Miss: Latest Apple Rumor: A Plastic iPhone?