How Big is Apple's E-Book Economy?
Most e-book conversation over the last year did not end in happy thoughts for Apple (NASDAQ:AAPL). The company was the central protagonist of an antitrust lawsuit filed by the U.S. Department of Justice in April 2012, alleging the iPhone maker and several book publishers colluded to raise e-book prices. While all the publishers ultimately settled with the government, Apple is still in court defending itself. The next hearing has been scheduled for June 3.
But in some positive news, an analysis by Asymco's Horace Dediu has found that e-books are a very strong component of Apple's sales, possibly generating about $1.3 billion in payments and grossing about $1.8 billion. The growth has been remarkably strong, too. In June 2011 Apple announced that 130 million e-books had been sold through iTunes. By October 2012, the number had gone up to 400 million.
With 270 million e-books sold in the 16 months between the two announcements, Apple approximately sold about an average of 17 million units per month. It also suggested e-book sales of about 200 million units just in 2012, Dediu added.
 And while the download rate of books relative to the apps and songs sold by the company may be much smaller, as displayed in the chart below courtesy of Asymco, they are priced much higher than the other two.
"The download rate looks paltry but we need to remember that Apps have a very low average selling price (about 23 cents including in-app purchases) and that Songs are probably priced around $1.1 on average," Dediue wrote. "In contrast each e-book could be generating about $10 per download."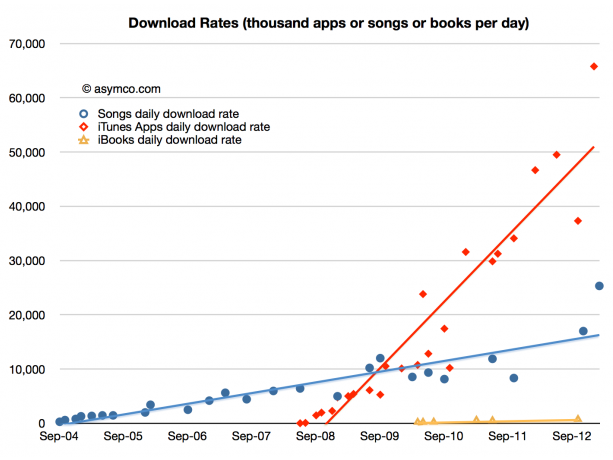 Dediu chose a slightly more conservative average selling price figure of $9 to calculate how much money unit sales have made for Apple. "Assuming a 70 percent share for the publisher, Apple's iBooks generated about $1.3 billion in payments and grossed about $1.8 billion," he wrote.
Dediu also said that according to an external estimate that worldwide e-book unit sales had reached 860 million, Apple's share came to about 24 percent.
Don't Miss: Is Education Apple's Next Big Growth Sector?