How Big is E-Commerce?
The Internet continues to evolve and impact our daily lives. While email and social networking appear to be a given, users are still becoming familiar with online shopping.
Although brick-and-mortar stores still account for the majority of retail sales, e-commerce is on the rise. According to a recent report from the U.S. Census Bureau, domestic online sales increased 4.4 percent to $59.5 billion in the fourth quarter, compared to $57 billion in the previous quarter. E-commerce sales accounted for 5.4 percent of the total $1.1 trillion retail sales in the final three months of 2012, representing the highest percentage since the Census Bureau started keeping track of online sales more than a decade ago.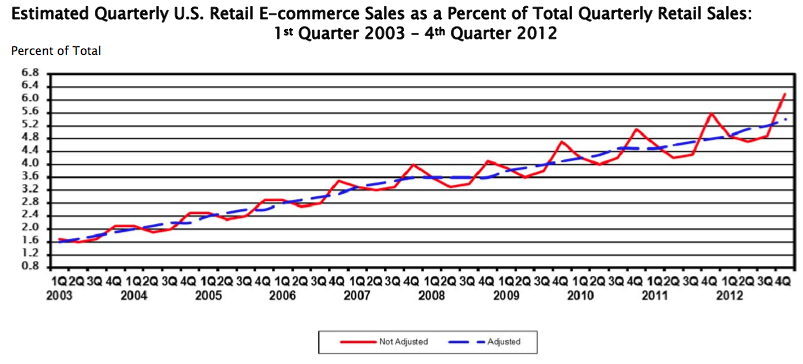 On a year-over-year basis, e-commerce sales in the fourth quarter jumped 15.6 percent,  nearly four times the 4 percent rise in total retail sales during the same period. Total e-commerce sales for 2012 came in at $225.5 billion, a 15.8 percent surge from 2011. Total retail sales grew only 5 percent last year.
These results are estimates, but they echo a report from comScore, a leader in measuring several aspects of the digital world. ComScore finds that e-commerce sales also jumped 15 percent for 2012, the strongest annual growth rate since before the recession.
"2012 was a year in which – for the most part – e-commerce continued to grow strongly, despite an uneven macroeconomic environment showing signs of recovery but also cause for continued concern," said comScore executive chairman and co-founder Gian Fulgoni. "With e-commerce growth rates consistently in the mid-teens throughout the year, it is clear that the online channel has won over the American consumer and will increasingly be relied upon to deliver on the dimensions of lower price, convenience and selection."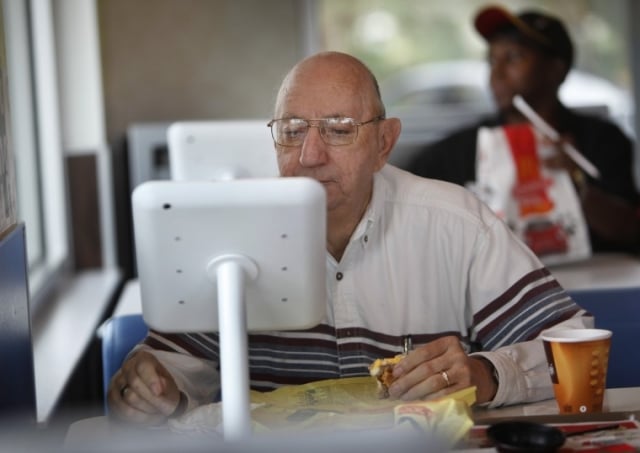 However, the fiscal cliff and its side effects have yet to be fully seen. Fulgoni explains, "The only real blemish on an otherwise outstanding year for e-commerce was a holiday season that fell shy of initial expectations, apparently due to consumers' fiscal cliff concerns. To the extent that this pullback was just a temporary shock and not a sign of underlying economic weakness, we are optimistic that 2013 will build on the momentum of the past year."
While it is still early into the new year, the health of the American consumer is not looking good. On Friday, Bloomberg News revealed internal emails that showed Wal-Mart (NYSE:WMT) executives discussing the dire state of consumers. "In case you haven't seen a sales report these days, February MTD sales are a total disaster, wrote Jerry Murray, Wal-Mart's vice president of finance and logistics. "The worst start to a month I have seen in my ~7 years with the company."
What and how are consumers buying…
Consumers continue to find ways to purchase highly desirable products. Last year, digital content and consumer electronics were the top-performing online product categories. Smartphones and tablets from companies such as Apple (NASDAQ:AAPL), Samsung, Google (NASDAQ:GOOG), and Amazon.com (NASDAQ:AMZN) all fueled spending.
Shoppers are also using mobile devices more than ever to shop at popular online companies such as Amazon, Best Buy (NYSE:BBY) and Wal-Mart.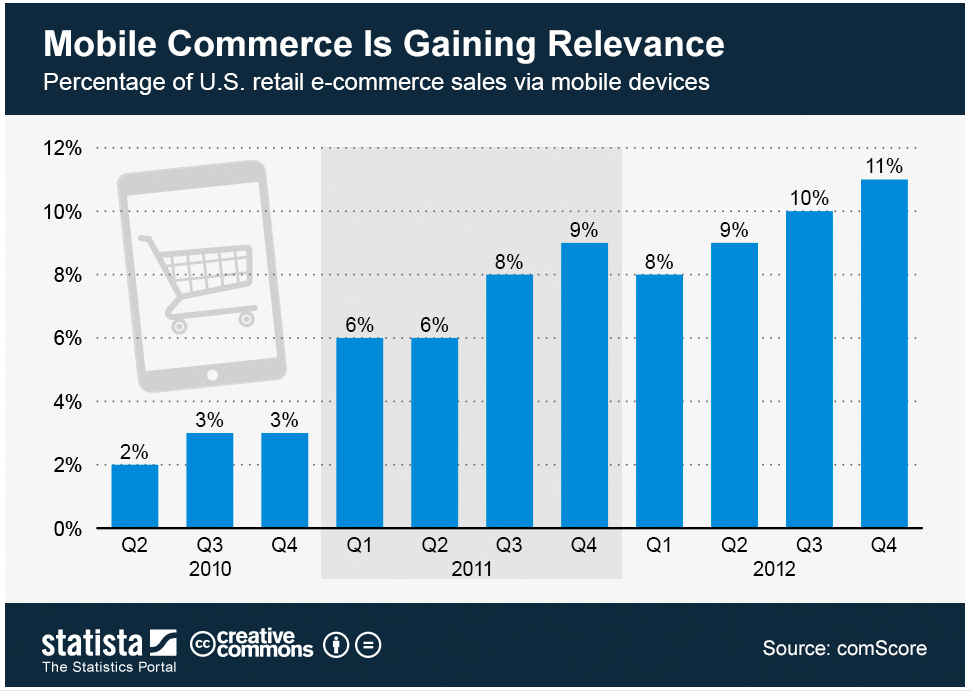 As the chart above shows, mobile commerce is gaining relevance among e-commerce. The percentage of e-commerce sales via mobile devices increased from 2 percent in the second quarter of 2010 to 11 percent in the fourth quarter of 2011.
Statista explains, "This increase was mainly caused by the rise of tablets in general and Apple's iPad in particular. While smartphones are often used to research prices while shopping in brick-and-mortar stores ("showrooming"), people have long been hesitant to make purchases on the relatively small screen. Tablets have erased that problem, offering enough screen real-estate to comfortably go through the entire purchasing process. The conversion rate on tablets is three times as high as it is on smartphones." The rise of larger-screen smartphones, or phablets, is also helping to promote e-commerce.
Don't Miss: Is Apple Planning an iCar?