How Big is the Apple Eco-System?
Apple (NASDAQ:AAPL) recently announced the earnings heard around the world. The tech giant beat on the bottom line, but narrowly missed Wall Street's revenue estimate. Although Apple shares are under heavy selling pressure, the company continues to expand its massive eco-system.
In the fourth quarter, Apple sold 47.8 million iPhones, compared to 37 million in the year-ago quarter. It also sold 22.9 million iPads during the quarter, compared to 15.4 million a year earlier. Both iGadgets logged a record-breaking performance. The iPhone sold at a rate of almost 3.7 million units per week, while the iPad sold more than 1.7 million units per week.
Apple has now sold well over 500 million iOS devices, representing a rate of 10 units per second in the last quarter alone. On the conference call, Apple also notes how agencies are turning to the iOS eco-system.
Peter Oppenheimer, chief financial officer, explains, "They provide a secure and trusted eco-system that IT departments require. The iPhone continues to be embraced by government agencies and businesses across the globe. Many U.S. government agencies are issuing iPhones by the thousands as part of their new mobile strategies. Some examples include NASA, the National Oceanic and Atmospheric Association, Immigration and Customs Enforcement, and the Transportation Security Administration."
Businesses are also adopting the iPhone…
Oppenheimer continues, "We are also seeing continued iPhone growth in business across the board from companies replacing existing smartphone deployments to businesses adding first-time smartphone users. Companies around the world like Neiman Marcus, Skanska, and Volvo are issuing iPhones to their employees to improve interactions with customers and give workers access to essential corporate data."
In addition to the iPhone, the iPad is finding a place beyond the typical consumer. Financial firms like Barclays, Nomura Securities and the Bank of Beijing are using the iPad to help employees perform daily functions. Oppenheimer explains, "In particular, Barclays roll out of over 8,000 iPads has generated tremendous employee engagement and feedback, making it the most successful IT deployment in Barclays' history."
State and local governments in the United States are also deploying the iPad. State legislators in West Virginia, Texas and Virginia are using the popular tablet to provide instant access to government records and information. Outside the U.S., 10,000 iPads are being used in the Sweden government, and over 5,000 iPads have been purchased by the government in the Netherlands.
The eco-system extends beyond hardware…
While devices spread the reach of Apple's eco-system, online shopping outlets provide a reason for users to come back for more. The iTunes store generated a record quarter with revenue of $2.1 billion. All-time quarterly records were seen in revenue from music, movies and apps. Apple also expanded iTunes music stores in 56 countries, including Russia and India. Overall, iTunes can be found in 119 countries and provides more than 20 million songs available for purchase and download.
The Apple App Store also had a record quarter, with over 2 billion downloads in the month of December alone. Cumulative app downloads have now surpassed 40 billion, earning developers over $7 billion from Apple. The App Store offers more than 775,000 apps to over 500 million accountholders in 155 countries.
Although Apple reported record-breaking numbers for the quarter, it was simply not enough to satisfy Wall Street. Shares of the company plunged more than 10 percent after the results. Side effects were also felt throughout the supplier eco-system. Shares of Cirrus Logic (NASDAQ:CRUS) and Nuance Communications (NASDAQ:NUAN) dropped. Larger suppliers such as Broadcom (NASDAQ:BRCM) and Qualcomm (NASDAQ:QCOM) also fell. Apple even pulled down the Nasdaq while the Dow and S&P 500 traded higher.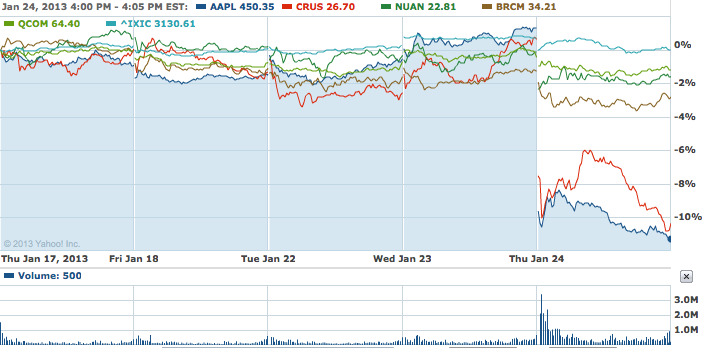 Investor Insight: Apple is Still Hoarding Cash