How Has Apple Stock Fared During the Shutdown?
Monday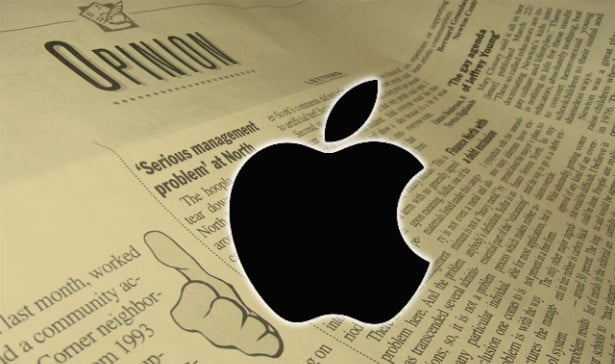 Shares of Apple's (NASDAQ:AAPL) stock tumbled along with the broader market on Monday, with the S&P 500, the Dow Jones, and the Nasdaq all closing lower in the face of a possible government shutdown. The iPhone maker closed down 1.24 percent, or $6.00, at $476.75. Here's a cheat sheet to Monday's top Apple stories:
Here's Why Apple Is the Most Valuable Brand in the World
Apple has been named the most valuable brand in the world in 2013 by brand consulting company Interbrand. According to Interbrand, Apple's estimated brand value is $98.3 billion, 28 percent more than its $76.5 billion value in 2012. Interbrand has been compiling its Best Global Brands report since 2000, and Apple's brand value has been skyrocketing over the past several years. Last year, Apple was ranked the second-most valuable brand in the firm's annual report.
Apple took the No. 1 spot from Coca-Cola (NYSE:KO) this year, which dropped to the No. 3 spot… (Read more.)
Is There Actually a Surplus of Apple's iPhone 5C?
Did Apple overstock the iPhone 5C? Although Apple sold out of all variations of the iPhone 5S less than 48 hours after it launched, some analysts believe that the company may have overestimated the demand for the lower-cost iPhone 5C.
As reported by Fortune's Philip Elmer-DeWitt, BTIG Research analyst Walter Piecyk recently conducted an informal survey of several carriers' stores in order to discover if there really was a surplus supply of iPhone 5C models. According to Piecyk, AT&T (NYSE:T) reported having every color and version of the iPhone 5C, while Verizon (NYSE:VZ) stores appeared to have an available supply of most colors of the 16GB version. Sprint (NYSE:S) seemed to have a minor shortage of iPhone 5C models with some stores giving waiting periods of up to two weeks for the yellow 16GB iPhone 5C… (Read more.)
Is the Brazilian iPhone Finally Apple's?
Apple has acquired the right to use the iPhone name in Brazil after a judge ruled against a local company that had earlier been granted exclusive rights to the iPhone trademark in that country, reports CNET. However, according to the judge's ruling, Apple must still share the iPhone name with IGB Eletronica in Brazil.
The judge called Apple's iPhone a "world renowned" product and noted that not allowing the Cupertino-based company to use the name in Brazil would be unfair since "all the product's renown and client following have been built on its performance and excellence as a product," reports AFP… (Read more.)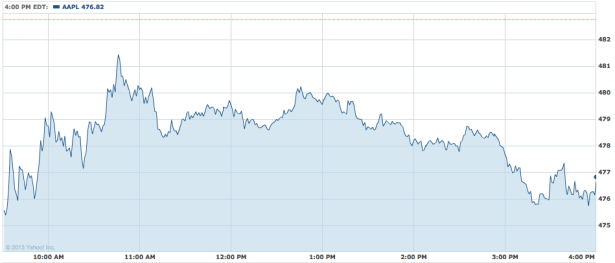 Follow Meghan on Twitter @MFoley_WSCS
Don't Miss: Here Are the U.S. Cities With the Most New iPhones.
Tuesday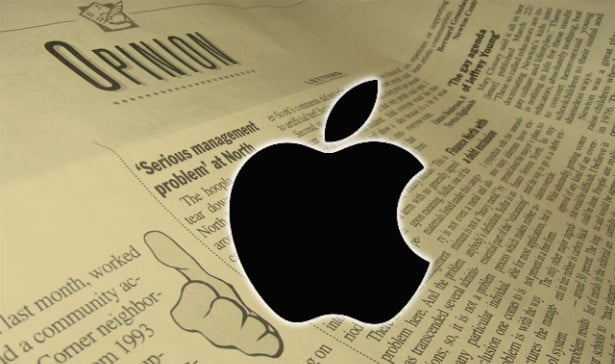 The shut down of the federal government had little effect on U.S. equities on Tuesday. The S&P 500 closed up 0.80 percent at 1,695.00, the Dow Jones closed up 0.41 percent at 15,191.70, and the Nasdaq closed up 1.23 percent at 3,817.98. Riding that wave, shares of Apple's (NASDAQ:AAPL) stock closed up $11.21, or 2.35 percent, at $487.96. Here's a cheat sheet to Tuesday's top Apple stories:
How Much Does Apple's iPhone 5S Really Cost?
IHS iSuppli recently dissected and analyzed the individual components of the iPhone 5S in order to discover the actual cost of Apple's device. According to IHS iSuppli's data, the 16GB iPhone 5S BoM (bill of materials) and manufacturing cost is approximately $199.
Although Apple currently sells its 16GB iPhone 5S for $649, this doesn't mean that Apple is pocketing a cool $450 every time it sells the device. As noted by IHS iSuppli, the estimate "accounts only for hardware and manufacturing costs and does not include other expenses such as software, licensing, royalties or other expenditures.".. (Read more.)
How Much Money Is Apple Saving With a Plastic iPhone?
How much did Apple actually spend to make your iPhone? A recently published report from UBS attempts to break down the cost of materials used for Apple's iPhone 5C and iPhone 5S, reports the Wall Street Journal.
According to the report, a 16GB iPhone 5C costs Apple $156 in materials, while the 16GB iPhone 5S costs $213. Surprisingly, the biggest difference in cost between the two iPhone models was due to the casings and not the cutting-edge fingerprint sensor. UBS estimates that the aluminum metal iPhone 5S casing cost Apple $48.22 in materials, while the plastic casing of the iPhone 5C cost a mere $6.32… (Read more.)
Tweet, Tweet: Icahn and Cook Meet for Apple Buybacks
All it took was one tweet.
Had a cordial dinner with Tim last night. We pushed hard for a 150 billion buyback. We decided to continue dialogue in about three weeks.

— Carl Icahn (@Carl_C_Icahn) October 1, 2013
Shrewd activist investor Carl Icahn let the cat out of the bag Tuesday morning, informing his Twitter followers that he had dinner with Apple (NASDAQ:AAPL) CEO Tim Cook the night before, and that, during the meal, he "pushed hard" for a $150 billion share buyback. The tweet was issued at 10:24 a.m. EDT and spurred an almost instantaneous Apple stock surge… (Read more.)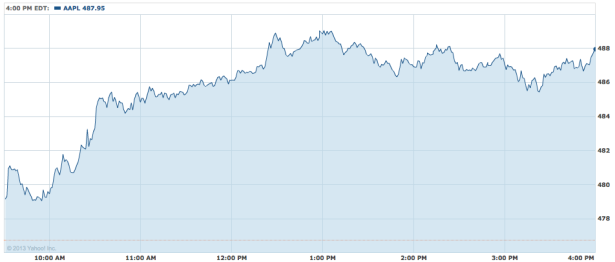 Follow Meghan on Twitter @MFoley_WSCS
Don't Miss: OS Market Share Figures Suggest Upcoming iPhone Spike.
Thursday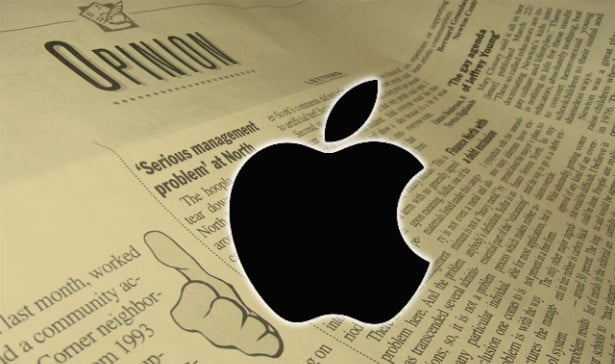 Shares of Apple's (NASDAQ:AAPL) stock inched down slightly on Thursday, closing down $6.15, or 1.26 percent, at $483.41. Here's a cheat sheet to Thursday's top Apple stories:
Wilbur Ross: Apple is 'Silly' With Excess Cash
Billionaire investor Wilbur Ross recently shared his views on Apple during an appearance on CNBC's "Fast Money" show. After noting that both Carl Icahn and Legg Mason's Bill Miller recently called Apple a "no-brainer" investment, "Fast Money" host Melissa Lee asked Ross for his opinion on Apple stock.
"I'm not absolutely sure that no-brainer trades exist. I have a tough time finding no-brainer trades. There's usually a reason why somebody's on the other side," stated Ross. Although Ross said he wasn't "intimate enough with the company" to know exactly what it should do with its large cash reserves, he did think Apple "should do something with the excess cash."… (Read more.)
Apple Bides Its Time as Samsung Rushes Galaxy Gear
Is Samsung's (SSNLF.PK) recently unveiled Galaxy Gear smartwatch a sign that the Korea-based company is outpacing Apple? A CNET report offers a fascinating behind-the-scenes glimpse of how quickly Samsung was able to bring its Galaxy Gear product to market.
Although rumors have been swirling about a so-called "iWatch" ever since a Chinese supply chain source suggested that Apple was interested in a smartwatch last year, the Cupertino, California-based company has yet to officially announce any wearable tech product. However, soon after the rumors of Apple's iWatch development emerged, Samsung announced its own wearable device… (Read more.)
What Are Apple's 'Big' Plans for This Cable Exec?
Apple has hired a longtime cable industry veteran as an engineer for a new project, which has sparked old rumors that the company is working on developing a TV set-top box.
Jean-François Mulé, who previously worked at CableLabs, posted his new engineering position at Apple on his LinkedIn (NYSE:LNKD) page, saying he will be "Challenged, inspired and part of something big" in his work at Apple. Mulé has worked in the cable industry for many years and spearheaded a number of important projects at CableLabs. CableLabs confirmed to Apple Insider that Mulé's position at the company is now vacant… (Read more.)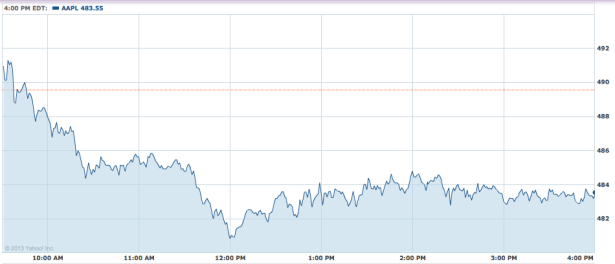 Follow Meghan on Twitter @MFoley_WSCS
Don't Miss: Did Samsung Unfairly Use Apple's Secrets?
Friday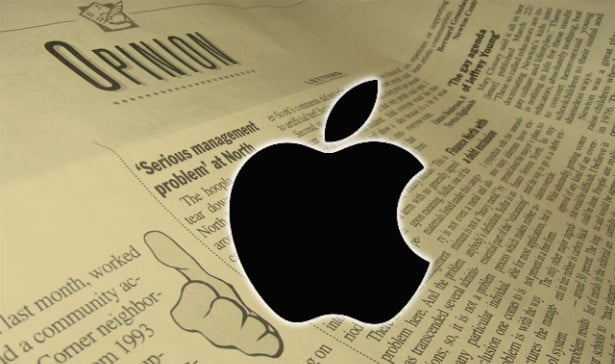 Shares of Apple's (NASDAQ:AAPL) stock traded between a $15-range over the past 5-day trading period, ending the week in-line with its key technical measurements. Shares of the iPhone maker lost $3.19, or 0.66 percent, of their value over past five days and $0.38, or 0.08 percent, to close at $483.03. Here's a cheat sheet to Friday's top Apple stories:
Apple's iOS 7 Glitch: Minor Embarrassment or Major Education Market Setback?
Apple's overall push into the growing education market hit a snag recently when it was discovered that its latest mobile operating system update removed "supervision profiles" from iPads that had been distributed to students in school districts across the country, reports All Things D. The removal of the supervision profiles allowed students browse the Internet without restrictions and download unauthorized content.
According to All Things D, the iOS 7 software glitch led at least one school district to decide to secure all of its iPads at the end of each school day instead of letting students take the devices home. "In the short term, the district will be collecting iPad devices at the end of each day until the safety protection measure is reinstalled," stated a memo from Colorado's Manitou Springs School District 14… (Read more.)
Is This the Radically Different Future of Apple's Displays?
A recent report from Korea's ETNews via 9to5Mac claims that Apple is planning some radical changes for the displays in almost all of its products. Some devices will be getting larger displays, while other products will incorporate the previously unused OLED and LED display technologies.
According to ETNews' sources, the next iteration of the iPhone will get a display of at least 5 inches. This rumor is in line with a recent report from the Wall Street Journal that said Apple was considering making a larger iPhone with a screen size ranging from 4.8 inches to 6 inches. Apple is also reported to be developing a larger version of the iPad with a 12.9-inch screen. Like the large iPhone rumor, this rumor was also previously reported by the Wall Street Journal… (Read more.)
Security Researchers Outwit Apple's Find My iPhone Feature
Yet another bug has been discovered in Apple's iOS 7 by security researchers. Germany-based Security Research Labs, or SRL, claims it has found a way to circumvent Apple's Find My iPhone application that enables users to remotely wipe their lost or stolen iPhones via its connection to the iCloud, reports Reuters. According to the security research firm, an iPhone thief can block a user's access via the iCloud by simply putting the device in "airplane" mode. This prevents the iPhone from being detected by the Find My iPhone application.
Next, the SRL researchers created a fake fingerprint in order to bypass the Touch ID authentication system by using a method similar to the one that was successfully used by Germany's Chaos Computer Club. Several days after the iPhone 5S was released, the Chaos Computer Club was able to hack the iPhone's fingerprint scanner by creating a latex fingerprint from a high-resolution photograph… (Read more.)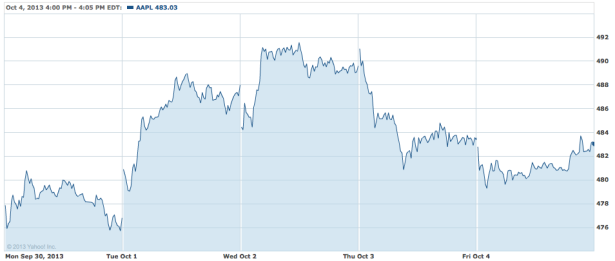 Follow Meghan on Twitter @MFoley_WSCS
Don't Miss: Security Researchers Outwit Apple's Find My iPhone Feature.