How Important Are U.S. Wireless Carriers to Apple?
Broadly speaking, Apple (NASDAQ:AAPL) sales are split into two categories: domestic, and international. In its second-quarter earnings release, the company reported that international sales accounted for 66 percent of revenue for the period. This is up 5 points sequentially and 2 points on the year.
The obvious insight implied by this piece of data is supported by the fact that revenue grew slowest in the Americas operating segment (at 7 percent, year over year) during the second quarter, and fastest in the "Rest of Asia Pacific" segment (at 26 percent). Revenue was up 19 percent on the year in Japan, 11 percent in Europe, and 8 percent in Greater China.
The Americas segment still takes the lion's share of the pie, but it's clear where growth the growth opportunities are.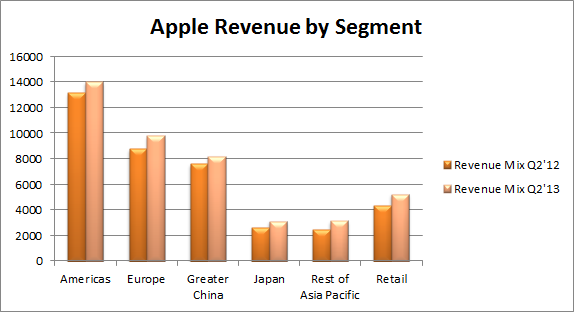 All told, the top three U.S. wireless carriers sold about 10.3 million iPhones in the second quarter, which stacks up against Apple's total iPhone unit sales volume of 37.43 million. AT&T (NYSE:T) revealed in its most-recent earnings that it activated 4.8 million iPhones in the quarter, 80 percent of total activations for the company. Sprint (NYSE:S) activated 2.2 million iPhone units, just over 50 percent of its total smartphone sales. Verizon (NYSE:VZ) sold about 4 million of the devices, also about half of the company's total smartphone sales.
All this points to the idea that Apple dominates the U.S. smartphone market, and major carriers are a critical part of that. However, while this relationship is a fundamental part of Apple's overall business, last quarter's data suggests that it may be slightly less important than before. Not only are more and more growth opportunities opening up overseas, but the iPhone itself is losing status relative to other products.
Apple's second-quarter data shows that iPad unit sales grew 65 percent on the year, while revenue from the device grew 40 percent. This compares against 7 percent unit sales growth for the iPhone and just 3 percent revenue growth.
As a share of revenue, the iPhone is still king. However, it's position at the head of the table looks like it will be eroded in the coming years by the increasing popularity of the iPad.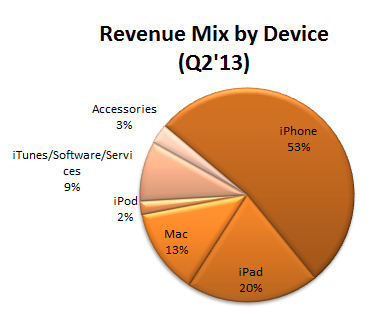 Don't Miss: Is Apple Debt Safer Than U.S. Government Debt?