How Low Has the iPhone's Market Share Fallen?
Google's (NASDAQ:GOOG) Android operating system grabbed even more smartphone OS market share in the first quarter of this year as Apple's (NASDAQ:AAPL) iOS continued to lose ground to its rival. According to the latest market data from research firm IDC, Android grew its smartphone OS market share from 59.1 percent in the first quarter of last year, to 75 percent in the first quarter of 2013. Meanwhile, Apple's iOS market share shrank from 23 percent to 17.3 percent during the same period.
However, Apple did grow its total shipment volume from 35.1 million in the first quarter of 2012, to 37.4 million in the first quarter of this year. This year's shipment total of 37.4 million was the best first quarter shipment volume that the iPhone maker has ever posted. On the other hand, its year-over-year shipment growth was at the lower end of the smartphone market's overall growth rate.
Android and Apple OS devices combined accounted for 92.3 percent of the total smartphone market, with a total of 199.5 million units shipped with one of these two operating systems installed on the devices. Samsung (SSNLF.PK) continued to lead vendor sales of Android devices with 41.1 percent of the market share.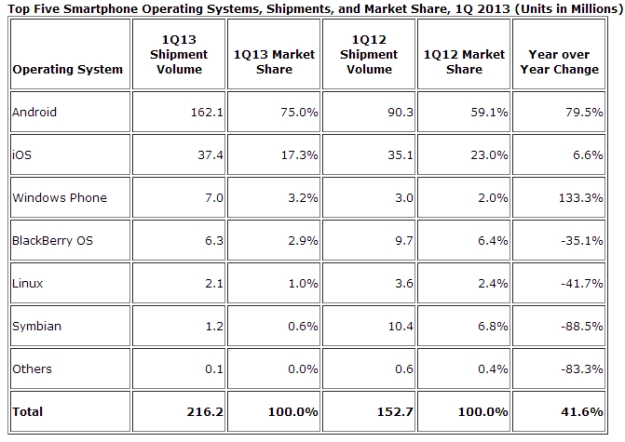 In perhaps the most surprising development, Microsoft's (NASDAQ:MSFT) Windows Phone racked up the largest year-over-year gain in operating system market share by growing 133.3 percent since last year. Windows also surpassed BlackBerry (NASDAQ:BBRY) to claim the third-ranked spot for the first time, with 3.2 percent of the OS market share and 7 million units shipped in 1Q13.
BlackBerry fell to the fourth highest spot by declining 35.1 percent. BlackBerry held 2.9 percent of the smartphone OS market with 6.3 million units shipped in 1Q13. However, BlackBerry also shipped over a million units installed with its new BlackBerry 10 OS in the first quarter of this year alone.
Linux and Symbian OS filled the bottom two spots in the top-five rankings with 1.0 percent and 0.6 percent of the smartphone OS market, respectively. Symbian was formerly Nokia's (NYSE:NOK) primary operating system before the Finnish phone maker transitioned to the Windows Phone OS.
IDC research manager Ramon Llamas had this to say about the latest smartphone OS market data: "Underpinning the worldwide smartphone market is the constantly shifting operating system landscape. Android and iOS accounted for more than the lion's share of smartphones in the first quarter, but a closer examination of the other platforms reveals turnaround and demand for alternatives. Windows Phone has benefited from Nokia's participation, and BlackBerry's new BB10 devices have already hit a million units shipped in its first quarter of availability."
Here's how Apple has traded so far this week.
Don't Miss: What's Your Old iPhone Worth?