How Much Does Apple's iPhone 5S Really Cost?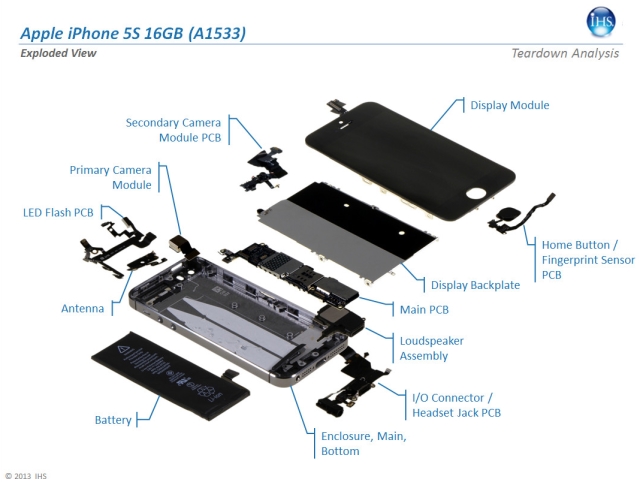 IHS iSuppli recently dissected and analyzed the individual components of the iPhone 5S in order to discover the actual cost of Apple's (NASDAQ:AAPL) device. According to IHS iSuppli's data, the 16GB iPhone 5S BoM (bill of materials) and manufacturing cost is approximately $199.
Although Apple currently sells its 16GB iPhone 5S for $649, this doesn't mean that Apple is pocketing a cool $450 every time it sells the device. As noted by IHS iSuppli, the estimate "accounts only for hardware and manufacturing costs and does not include other expenses such as software, licensing, royalties or other expenditures."
Even with the addition of a fingerprint scanner and a 64-bit processor, IHS estimates that the total BoM and manufacturing cost of the iPhone 5S is only $2 more than the iPhone 5. The market research firm also noted in its report that Apple was able to keep its overall costs down, even though the new A7 chip costs $6 more than the A6 chip used in the iPhone 5.
According to IHS data, the fingerprint scanner and the rest of the iPhone 5S's "user-interface segment" only cost $15. The firm reports that this is $7 more than the cost of the user-interface segment of the iPhone 5C.
IHS's $7 fingerprint scanner cost estimate is identical to the cost estimate provided by UBS. However, UBS calculated a higher total BoM for Apple's iPhone 5S. As reported by The Wall Street Journal, UBS estimated a $213 BoM for the iPhone 5S. UBS also predicted manufacturing and freight costs of about $18 to $20 per unit, although it is not clear from the report if this was included in the $213 figure.
Although IHS iSuppli and UBS disagree on the total BoM for the iPhone 5S, both teardowns confirm that Apple was able to maintain a relatively low BoM despite the addition of a fingerprint scanner, a 64-bit processor, and an improved camera. This suggests that the margins on Apple's latest iPhones will be comparable to the last generation. Here's how Apple traded over the past five sessions.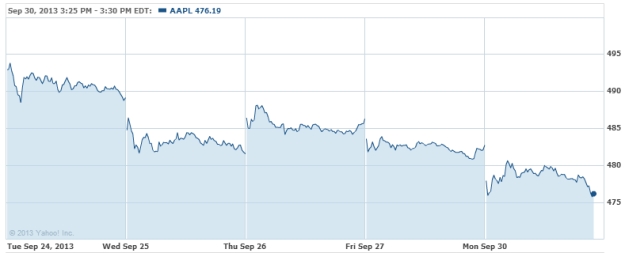 Follow Nathanael on Twitter @ArnoldEtan_WSCS
Don't Miss: Is There Actually a Surplus of Apple's iPhone 5C?