How Much Does the iPad Air Cost Apple to Make?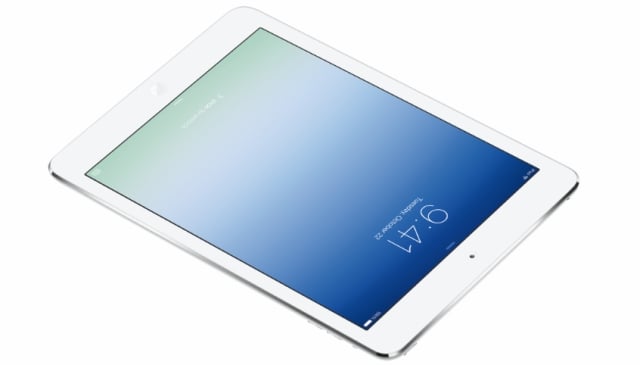 IHS has released its tear-down analysis of Apple's (NASDAQ:AAPL) new iPad Air, and the firm found that the tablet is cheaper for Apple to make than previous iPad models while still starting at the high price of $499, meaning the company is making high gross profits on the devices, according to a report from AllThingsD.
IHS said that the new iPad costs Apple between $274 and $361 to build while being priced between $499 for the 16GB Wi-Fi model and $929 for the 128GB model with cellular connectivity and Wi-Fi. IHS estimated that gross margins on the iPad Air are 45 percent for the $499 version and 61 percent for the $929 version. The cost of components for the entry-level model is $42 less than the component cost of the entry-level third-generation iPad.
While the firm did say that the new iPad takes some of its parts from the iPhone 5S, similar to what other analysts have found, it also has some key differences that help add to Apple's profits. For example, the device is big enough for the company to add several different cellular data network chips that allow the device to connect to all frequencies of 4G service, meaning Apple can use a single device for all wireless carriers.
The firm said that Apple will likely move toward doing this in future iPhone generations but hasn't yet figured out how to make the chips small enough. Less variation on the different models means lower costs for Apple overall.
As for how Apple got the device to be so thin and light, the use of Gorilla Glass for the touchscreen reduced the necessary layers of glass from two on previous iPad models to one and also reduced the number of LED lights needed to light the display from 84 to 36.
A different tear-down report from iFixit found that the iPad Air has much in common with another Apple device, the iPad mini. In fact, the site said it "seems like Apple took an iPad Mini and transmogrified it to a regular iPad's size." IFixit also found that Apple reduced weight by shaving 20 percent off the display's thickness.
Apple has said that the iPad Air is the lightest tablet of its size on the market, but the company's biggest victory with the device seems not to be shrinking its size but inflating its margins.
Here's how Apple traded on Tuesday:

Follow Jacqueline on Twitter @Jacqui_WSCS
Don't Miss: Will Apple 'Inherit the Earth' in a Future Energy Market?