How Much Money Is Apple Saving With a Plastic iPhone?

How much did Apple (NASDAQ:AAPL) actually spend to make your iPhone? A recently published report from UBS attempts to break down the cost of materials used for Apple's iPhone 5C and iPhone 5S, reports the Wall Street Journal.
According to the report, a 16GB iPhone 5C costs Apple $156 in materials, while the 16GB iPhone 5S costs $213. Surprisingly, the biggest difference in cost between the two iPhone models was due to the casings and not the cutting-edge fingerprint sensor.
UBS estimates that the aluminum metal iPhone 5S casing cost Apple $48.22 in materials, while the plastic casing of the iPhone 5C cost a mere $6.32. This means that Apple saved nearly $42 in material costs simply by replacing the standard metal iPhone casing with a plastic one.
Although Apple's Touch ID fingerprint scanner is one of the most vaunted new features on the iPhone 5S, it is also one of the least expensive when it comes to the cost of materials. According to the UBS report via the Wall Street Journal, the fingerprint scanner only added $7 to the overall cost of sensor materials for Apple's flagship iPhone.
Despite the seemingly low cost of materials for each iPhone model, UBS estimates gross margins of approximately 50 percent on each device after "box contents, manufacturing, and non-BoM [Bills of Material] related costs" are accounted for. Apple currently sells the unlocked 16GB iPhone 5C for $549 and the unlocked 16GB iPhone 5S for $649.
Apple announced that it sold a record-breaking nine million iPhone 5S and iPhone 5C models over the opening weekend. Although Apple didn't reveal how many units of each new iPhone model it sold, KGI Securities analyst Ming-Chi Kuo believes Apple may have sold approximately the same number of iPhone 5C and iPhone 5S units.
Here's how Apple traded over the past five trading sessions.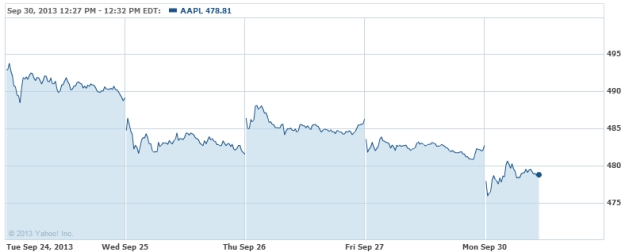 Follow Nathanael on Twitter (@ArnoldEtan_WSCS)
Don't Miss: No Gold iPhone? The Chinese Will Do With Gold Stickers.