How Significant Is Apple's Mac Shipment Decline?
Apple's (NASDAQ:AAPL) Mac shipments in the U.S. dropped in the third quarter of 2013, according to the latest PC market data from two major market research firms. However, each firm drew different conclusions about the severity of Apple's U.S. PC market decline.
IDC reported that Apple's year-over-year Mac shipments decreased by 11.2 percent amid an overall PC shipment decline of 0.2 percent in the U.S. market. According to IDC data, Apple was the only top-five vendor to see a year-over-year decline in the third quarter.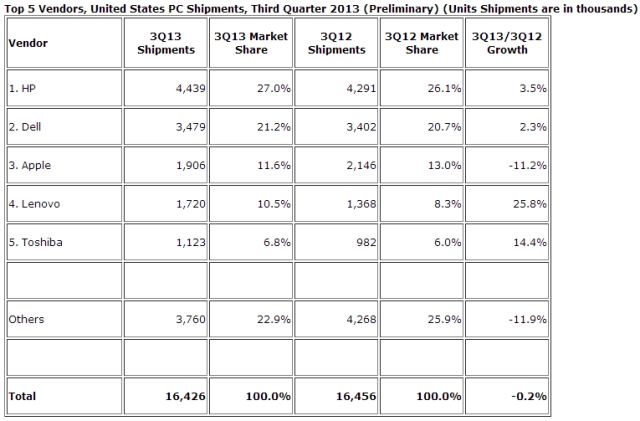 Gartner's data, on the other hand, indicated that Apple's Mac shipments only declined by 2.3 percent over the same time period. In contrast to IDC, Gartner also recorded 3.5 percent growth in the U.S. PC market. Both market research firms ranked HP (NYSE:HPQ) and Dell (NASDAQ:DELL) in the No.1 and No. 2 spots, respectively.
While Gartner and IDC came to different conclusions about the state of the overall U.S. PC market, both research firms seem to agree that Apple's share of the PC market declined in the third quarter. But while IDC reported that Apple's market share dropped from 13 percent last year to 11.6 percent this year, Gartner only recorded a 14.2 percent to 13.4 percent drop over the same period.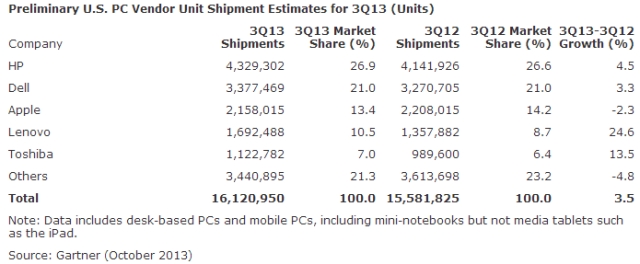 Although Apple was ranked No. 3 in the U.S. by both market research firms, the Cupertino, California-based company does not rank in the top five of worldwide PC vendors. Still, it should be noted that neither firm's data included tablets, such as Apple's best-selling iPad, in their PC shipment calculations.
Although it is not clear from these reports why Apple sold fewer Macs last quarter, it could be due to the overall consumer trend toward tablets. "Tablets will continue to impact the PC market, but the U.S. PC market will see a more moderate decrease rather than a steep decline in the next two years," wrote Gartner analyst Mikako Kitagawa.
Follow Nathanael on Twitter @ArnoldEtan_WSCS
Don't Miss: Apple's iPad Mini Takes the Cake as the Most Responsive Tablet.