How Will Apple's New Devices Affect Q4 iPhone Sales?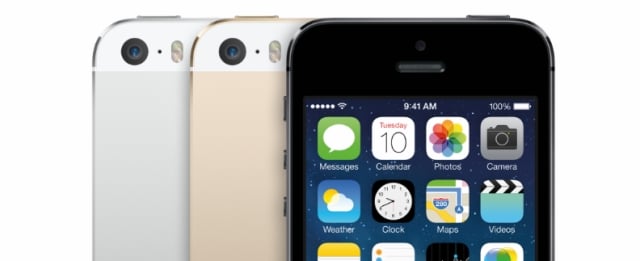 New research from Morgan Stanley (NYSE:MS) predicts that sales of Apple's (NASDAQ:AAPL) iPhone devices will grow 28 percent this quarter, to 34.5 million units, a figure much higher than previous expectations.
According to the research note, which was seen by Fortune, preorders for the iPhone 5C could already be seen in the data, even though the preorder period started Sunday, the same day Morgan Stanley stopped the study for the end of the third quarter.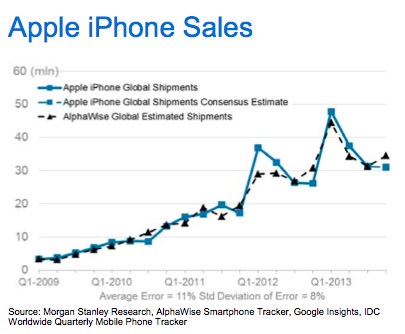 Morgan Stanley's prediction that Apple will sell 34.5 million iPhones in the company's fiscal fourth quarter is 11 percent higher than the consensus prediction and 28 percent higher than the number of units Apple sold in its fourth quarter last year.
Those are good numbers for Apple, but not as good as the numbers Morgan Stanley found for the company's biggest competitor, Samsung (SSNLF.PK). Samsung is expected to sell 47 million of its Galaxy smartphone units next quarter, which is 2 million more than analysts had previously estimated.
Samsung is likely to continue its domination in emerging markets, as Apple's iPhone 5C — which was supposed to be a less-expensive iPhone designed for emerging markets, where consumers are reluctant to pay for expensive devices — disappointed analysts with its not-so-cheap pricing.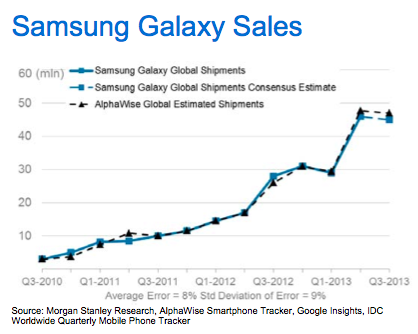 Forbes pointed out that the analyst in charge of the Morgan Stanley AlphaWise Smartphone Tracker, Katy Huberty, has made accurate predictions for Apple's iPhone sales in the past. The AlphaWise Tracker estimated that Apple would sell 31 million iPhones during the June quarter. That figure was above the average analyst estimate of 27 million, but when Apple reported earnings, the company revealed it had indeed sold 31.2 million iPhones in the June quarter.
Apple's iPhone 5S and 5C go on sale Friday, but recent reports have suggested that the company may not be able to meet this weekend's demand for the devices. Retailers in the U.S. and China are saying they haven't gotten enough 5S devices to meet the demand that's expected.
Follow Jacqueline on Twitter @Jacqui_WSCS