IBM Buyback Approved, Dell's Last Day on the Nasdaq: Market Recap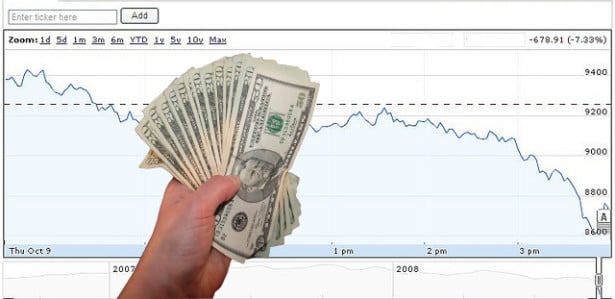 U.S. stocks rose during trading on Tuesday on increased speculation that the Fed won't begin tapering its bond purchases soon. The Federal Reserve's two-day policy meeting began today, and economists are saying that the central bank will have to wait until March to begin tapering as the economic effects of the government shutdown at the beginning of the month are still unclear. Data released today showed that retail sales, consumer confidence, and inflation all declined recently.

Gold: -0.54% to $1,344.90 per ounce Oil: -0.46% to $98.23 per barrel U.S. 10-Year: -0.20 to 2.507%
Retail Sales Turn Negative: Can Government Be Blamed? The Department of Commerce's retail sales report for September was delayed by more than two weeks thanks to the 16-day partial shutdown of the federal government. During those 16 days, consumer confidence sunk to a two-year low as Washington's brinksmanship-style of politics gave rise to fears that political dysfunction would derail the economic recovery by forcing a debt default.
Soft Price Pressures Leave Plenty of Room for Fed's QE: The U.S. Bureau of Labor Statistics reported on Tuesday that its produce price index for finished goods fell to a seasonally adjusted 0.1 percent on the month in September, sliding below expectations for a 0.2 percent increase. Year-over-year growth decelerated to just 0.3 percent, down significantly from +1.3 percent in August.
Slow and Steady: Businesses March On Despite Headwinds: "Low growth" seems to be the descriptor of choice for the current business and economic environment. Data released last week and earlier this week confirm that the U.S. manufacturing industry stumbled through the end of the third quarter, eking out modest growth against the prevailing economic and fiscal headwinds. Modest growth is better than no growth.
Here's your cheat sheet to today's top stocks stories: 
BP (NYSE:BP) stock advanced almost 5 percent during trading on Tuesday after BP reported third-quarter financial results. Consolidated underlying replacement cost profit — an accounting method that adjusts for the constantly fluctuating price of oil, similar to "last in, first out" — fell 26 percent on the year to $3.7 billion. Underlying earnings per share fell 26 percent on the year to about 20 cents. On a replacement-cost basis, BP's adjusted earnings of $1.17 per American depository share beat the mean analyst estimate of $1.

Nokia Corp. (NYSE:NOK) reported third-quarter earnings on Tuesday morning as the company moves closer to selling its handset division to Microsoft Corp. (NASDAQ:MSFT) in a $7.2 billion deal expected to close next quarter. Unfortunately for Nokia, the company's results didn't do much to boost faith in the businesses that will remain after the Microsoft deal goes through. Nokia's two major businesses it will retain after the Microsoft acquisition are the company's network and its digital mapping service called Here.

Apple Inc.'s (NASDAQ:AAPL) third-quarter earnings results have shown that the company's business has stabilized, according to a research note from Piper Jaffray analyst Gene Munster seen by Wall St. Cheat Sheet as Apple's revenue beat the analyst's expectations due to strong sales of the iPhone 5S. "The overall trends in the business have stabilized, and we expect earnings to be essentially flat y/y in Dec-13 and up 8 percent in Mar-14, marking the first earnings growth quarter in 5 quarters," Munster said of Apple in the note.
Dell (NASDAQ:DELL) has seen the last day it will be publicly traded on the Nasdaq or, as company founder and CEO Michael Dell said in a press release announcing the completion of his acquisition of the personal computer maker, it is the day "Dell enters an exciting new chapter as a private enterprise." In early September, Michael Dell, who began the eponymous company from his college dorm room in 1984, finally convinced shareholders that his privatization plan was the best option for the struggling PC manufacturer.

Sears Holdings Corp. (NASDAQ:SHLD) is struggling to keep its head above water, but CEO Edward Lampert had another sales strategy to pitch this week. According to Bloomberg, Lampert announced Tuesday that Sears is now considering separating its Lands' End and Auto Center businesses from the rest of the company. Though neither of the entities would be sold, their separation could help Sears raise cash and curb its revenue slide while allowing shareholders to benefit from the units' separate significant values.
Electronic Arts (NASDAQ:EA) announced Monday that its partnership with Tiger Woods for its popular PGA Tour video game has ended. "EA SPORTS and Tiger Woods have also made a mutual decision to end our partnership, which includes Tiger's named PGA TOUR golf game. We've always been big fans of Tiger and we wish him continued success in all his future endeavors," the company said in a blog post.

Pfizer's (NYSE:PFE) patent for its blockbuster cholesterol medicine Lipitor — which for nearly a decade was the world's top-selling drug — expired in 2011, and since then earnings and revenue have struggled to grow quarter after quarter. Like many large drug manufacturers, cheaper generic versions of its once top-selling pharmaceuticals are eroding sales for drugs no longer protected by patents, drugs that once earned Pfizer billions annually.
International Business Machines Corp.'s (NYSE:IBM) board on Tuesday approved a regular quarterly cash dividend and authorized $15 billion in funds for the company's stock repurchase program. The announcement led IBM stocks to surge in the hours following the decision, rising 2.7 percent to $182.12 by close on Tuesday.
Follow Jacqueline on Twitter @Jacqui_WSCS
Don't Miss: Is This Why Apple Didn't Make a Gold iPad?