IBM Commercializes Watson Technology to Avoid Final Jeopardy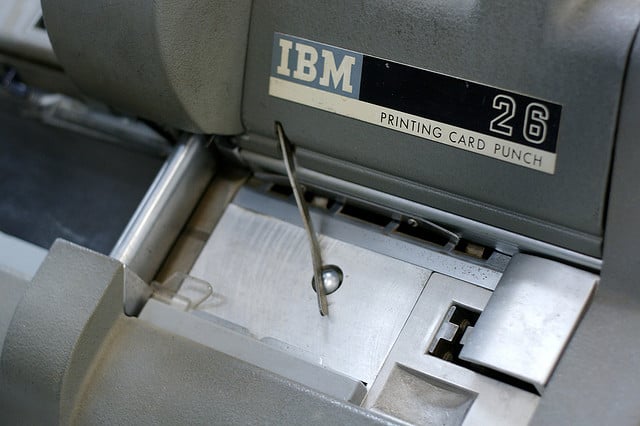 International Business Machines Corp. (NYSE:IBM) had some exciting news to share Thursday when it announced that it is making its Watson technology available as a cloud-based development platform for all application developers, allowing them to access a resources that can help stimulate news apps "infused with Watson's cognitive computing intelligence." The Armonk, New York-based company shared its news in a statement Thursday, and also published details on its website, exciting app writers about the opportunity to access the technology made famous on the popular game show Jeopardy.
According to Bloomberg, programmers will now be able to access IBM Watson Developers Cloud, and take advantage of the content store saturated with data from third-party providers. IBM and contracted professionals will also help developers get the most out of their newly accessibly online marketplace, and Stephen Gold, vice president of Watson Solutions, maintained in an interview that, "There is so much more that can be accomplished by drawing on the creativity of individuals, organizations, entrepreneurs, startups, and established businesses that truly innovate every day on their own. Watson can be this ultimate assistant to help individuals get their questions answered and their problems solved."
The news come as the once-thriving IBM is now suffering declines in its hardware business, and battling fiercely to retain its edge even though rigid competitors like Apple (NASDAQ:AAPL) and Google (NASDAQ:GOOG) have largely taken the forefront. The tech company recognizes the compulsion to somehow commercialize its technology and continue profiting from it, especially as it is now unable to roll out highly advanced products as fast as its rivals can.
The company's stock was declining Thursday, down 0.43 percent at $182.75, despite IBM's announcement, but executives are still reportedly confident that they can successfully monetize the new endeavor and encourage application developers to submit their requests to use Watson's service. Three apps developed on the cloud-based platform are already set to enter the market next year.
According to Bloomberg, those who wish to take advantage of the service will have no upfront costs to pay, but their usage will instead by charged on a metered usage model. It is unclear how much IBM expects to earn from the service, but investors are still hoping that the initiative can help turn things around, because IBM has now suffered six quarter of declining revenue. Nonetheless, Gold maintains his confidence in the Watson cloud service's potential and asserted Thursday, "We really believe in the future opportunity it represents in a revenue and upside perspective. This is clearly IBM's most prized possession that we are opening up to the world."
Don't Miss: Rumor: Apple's iWatch Design Different for Men and Women.