Icahn Backs Out of Apple Buyback Proposal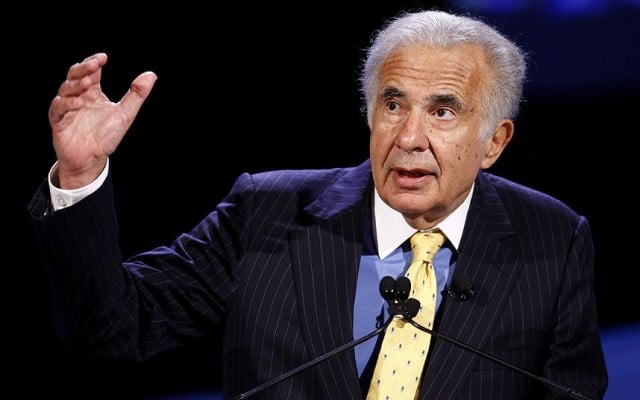 Activist investor Carl Icahn has decided not to pursue his proposal to expand Apple's (NASDAQ:AAPL) share repurchase program by another $50 billion. Icahn revealed his new position in an open letter to shareholders that he posted on his Shareholders' Square Table website.
In the letter, Icahn cited the recent recommendation against his proposal made by proxy advisory firm Institutional Shareholder Services Inc. (or, ISS). "[W]e also agree with ISS's observation, taking into account that the company recently repurchased in 'two weeks alone' $14 billion worth in shares, that 'for fiscal 2014, it appears on track to repurchase at least $32 billion in shares,'" wrote Icahn. "Our proposal, as ISS points out, 'thus effectively only asks the board to spend another $18 billion on repurchases in the current year.'"
Apple CEO Tim Cook recently revealed in an interview with the Wall Street Journal that the company had repurchased $14 billion of its own shares soon after it announced its fiscal first quarter earnings. Including the latest buyback, Apple has bought $40 billion of its own shares over the past twelve months.
Since the company has taken major steps toward Icahn's capital return goals, the billionaire investor has decided to drop his share repurchase proposal. "As Tim Cook describes them, these recent actions taken by the company to repurchase shares have been both 'opportunistic' and 'aggressive' and we are supportive," noted Icahn. "In light of these actions, and ISS's recommendation, we see no reason to persist with our non-binding proposal, especially when the company is already so close to fulfilling our requested repurchase target."
Icahn has been aggressively campaigning for Apple to return more cash to shareholders since August of last year. The activist investor recently revealed that he purchased another $500 million worth of Apple shares, making his total investment in the California-based company about $3.6 billion.
Icahn's decision to abandon his share repurchase proposal will likely come as a relief to several institutional investors, including New York City Comptroller Scott Stringer. Stringer, who oversees five pension funds that are heavily invested in Apple, recently told the New York Times that Icahn's proposal was "unnecessary, risky, and shortsighted." The California Public Employees' Retirement System (or, CalPERS) was also strongly opposed to Icahn's proposal. "We like what they're doing. They have a significant program for returning money to shareholders," CalPERS senior portfolio manager Anne Simpson told Bloomberg in December.
Besides dropping his proposal, Icahn also reiterated his faith in Apple's potential for growth. "[I]n light of Tim Cook's confirmed plan to launch new products in new categories this year (in addition to an exciting product roadmap with respect to new products in existing categories), we are extremely excited about Apple's future," wrote Icahn.
Follow Nathanael on Twitter (@ArnoldEtan_WSCS)
More From Wall St. Cheat Sheet: