Icahn to Apple: How About a $50 Billion Stock Buyback?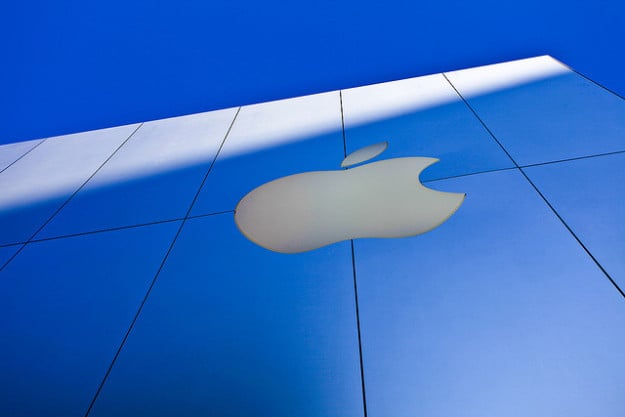 Billionaire investor Carl Icahn is continuing to push Apple (NASDAQ:AAPL) for an expansion of its share buyback program, albeit to a smaller extent than he was previously advocating. "Gave $AAPL notice we'll be making a precatory proposal to call for vote to increase buyback program, although not at $150 billion level," tweeted the activist investor.
According to an unnamed source cited by CNBC, Icahn is now proposing that Apple repurchase $50 billion worth of its stock. Icahn told Time magazine that he filed a shareholder proposal with Apple on November 26 that will be voted on at the company's next annual shareholders meeting. However, since it is a precatory proposal, it will not be binding on the company's management even if it is approved by a majority of shareholders.
Icahn was originally asking Apple to expand its share buyback program by $150 billion by borrowing funds at a 3 percent interest rate. In an open letter to CEO Tim Cook, Icahn argued that a $150 billion share buyback would precipitate "an immediate 33 percent boost to earnings per share, translating into a 33 percent increase in the value of the shares."
Icahn has had multiple conversations with Cook regarding his share buyback proposal. According to Time magazine, Icahn last discussed his proposal with Cook during a 20 minute phone conversation on November 21. According to Icahn, Cook told him, "Look, you've accomplished a lot, and we want to listen to you."
However, Apple has publicly been noncommittal about Icahn's proposal. "Earlier this year we more than doubled our capital return program to $100 billion, including the largest share repurchase authorization in history," said Apple spokesperson Steve Dowling via Time magazine. "As part of our regular review process, we are once again actively seeking our shareholders' input on our program, and as we said in October, the management team and our board are engaged in an ongoing discussion about it which is thoughtful and deliberate. We will announce any changes to our current program in the first part of calendar 2014."
The size of Icahn's stake in Apple was recently revealed in a regulatory filing with the Securities and Exchange Commission. According to the filing, Icahn owned approximately 3.88 million shares of the iPhone maker at the end of September. Icahn previously told CNBC that he would consider a proxy fight if Apple doesn't act on his proposal. "If they don't do it, we'll test the waters and see if the shareholders want us to do it and if we could win," said Icahn. "We've said 'We're not going away.' I told that to Tim [Cook] and I'll say it again," he added.
Here's how Apple has traded over the past five sessions.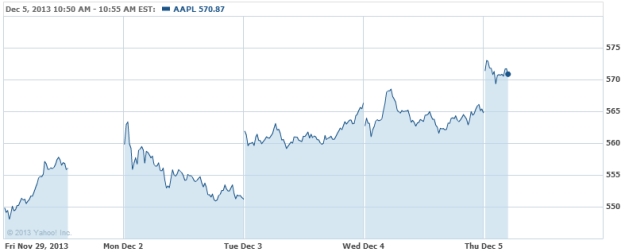 Follow Nathanael on Twitter (@ArnoldEtan_WSCS)
Don't Miss: Insider Source: China Mobile Will Soon Announce Apple Deal.