Icahn to Apple: 'Keep Buying, Tim!'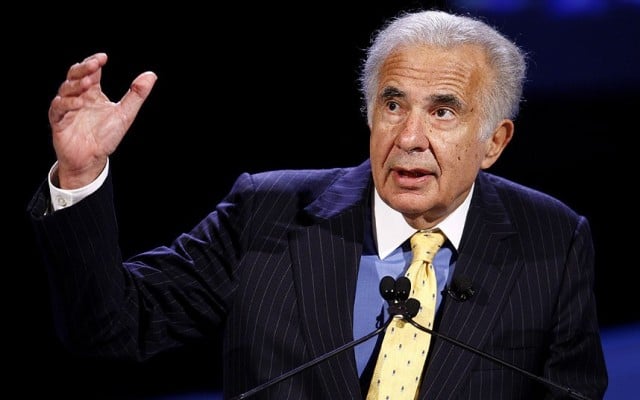 Billionaire investor Carl Icahn has once again taken to Twitter (NYSE:TWTR) to tout his bullish perspective on Apple (NASDAQ:AAPL) stock and continue his campaign to convince the company to expand its share buyback program. Icahn's most recent tweets also responded to CEO Tim Cook's recent comments to the Wall Street Journal.
The activist investor's first tweet commented on Cook's assertion that Apple would enter multiple new product categories this year. "Tim Cook again confirms $AAPL will launch new products in new categories (plural) this year," tweeted Icahn. "Wall Street apparently still not listening." Apple shares went up 1.40 percent today, or $7.17, to close at $519.68.
In his interview with the Wall Street Journal, Cook reiterated that Apple would release new products in 2014. "There will be new categories," said Cook. "We're not ready to talk about it, but we're working on some really great stuff." Although Cook declined to provide any specific details, he noted that any "reasonable" person would consider the products that Apple is working on as new categories.
Icahn has repeatedly cited Apple's history of successful new product introductions as one of the reasons why the company should return more cash to shareholders. In an open letter that he recently wrote to shareholders, Icahn mentioned the possibility of an Apple television, an iWatch, and a mobile payments service.
In another tweet, Icahn noted what Apple's stock price would be if it was traded at the same multiple of operating profit that Google (NASDAQ:GOOG) is traded at. "$GOOG @ 19×2014 est operating profit. At same multiple $AAPL=$1,245 per share. Ridiculous. Keep buying Tim! You still have $145 billion cash," tweeted Icahn.
Besides confirming that Apple would enter new product categories this year, Cook also revealed to the Wall Street Journal that Apple had repurchased $14 billion of its own shares over the past two weeks. According to the Wall Street Journal, Cook was "surprised" by the 8 percent fall in the company's share price on the day following its earnings announcement on January 28. However, the Apple CEO decided to take full advantage of the price decline with an "aggressive" and "opportunistic" stock buyback.
Last April, Apple announced a significant expansion to its capital return plan, including $60 billion for share repurchases that will extend through 2015. Per the Wall Street Journal, Cook said that the latest share repurchases were still part of this previously revealed stock buyback plan. Cook noted that $12 billion of the most recently purchased shares were bought through an "accelerated" buyback program, while the remaining $2 billion were bought on the "open market."
Apple has recommended that the company's shareholders vote against Icahn's proposal to expand its share repurchase program by another $50 billion. Proxy advisory firm Egan-Jones has also recommended that shareholders reject Icahn's proposal, reports Reuters. However, Cook told the Wall Street Journal that "updates" to Apple's share repurchase program will be revealed in March or April of this year. Here's how Apple traded on Friday.
Follow Nathanael on Twitter (@ArnoldEtan_WSCS)
More From Wall St. Cheat Sheet: