Icahn to Apple: Time Is Ripe for a Larger Buyback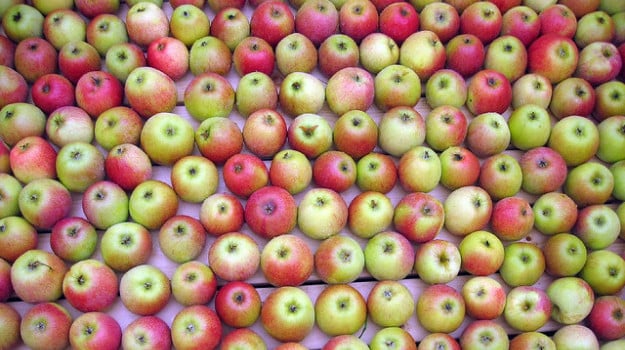 Billionaire investor Carl Icahn outlined his case for an expansion of Apple's (NASDAQ:AAPL) share buyback program in an open letter addressed to CEO Tim Cook that he posted on his new Shareholder's Square Table website on Thursday. In the letter, Icahn argued that Apple should immediately announce a "$150 billion tender offer" at $525 per share, financed with funds borrowed at a 3 percent interest rate.
Icahn noted that S&P 500 companies trade at around 14x forward earnings, while Apple trades at only 9x earnings after backing off net cash. Based on this "enormous valuation gap" and Apple's $147 billion cash hoard, Icahn believes that the Cupertino-based company is missing a crucial opportunity to increase shareholder value by not executing his proposed buyback.
According to Icahn's calculations, his proposed buyback would precipitate "an immediate 33 percent boost to earnings per share, translating into a 33 percent increase in the value of the shares." The effect on Apple's share price would be even more dramatic by 2016. "Longer term (in three years) if you execute this buyback as proposed, we expect the share price to appreciate to $1,250, assuming the market rewards EBIT [earnings before interest and tax] growth of 7.5 percent per year with a more normal market multiple of 11x EBIT," wrote Icahn.
Although Icahn emphasized his support for Apple's current management team, he noted that the company is making a strategic mistake in "the size and timeframe" of its share buyback program. Icahn believes this is partly due to the lack of "an individual with a track record as an investment professional" on Apple's Board of Directors.
Although Icahn admitted that the size of his proposed buyback is "unprecedented," he also argued that it is appropriate considering "the size and financial strength" of Apple. In April, Apple announced $60 billion in share repurchase authorization, its largest single share repurchase authorization in history. However, Icahn's proposed $150 billion share buyback would be over twice as large. Berkshire Hathaway's (NYSE:BRKA) (NYSE:BRKB) Warren Buffett recently dismissed Icahn's effort to increase Apple's share buyback program by noting that, "I do not think that companies should be run primarily to please Wall Street and largely shareholders who are going to sell."
Icahn addressed this criticism in his letter to Cook by pledging to withhold his own shares from the $150 billion tender offer. "There is nothing short term about my intentions here," wrote Icahn. Besides outlining his buyback arguments, Icahn also revealed the extent of his stake in Apple. According to his letter, Icahn currently has $2.5 billion position in Apple. Here's how Apple has traded over the past five trading sessions.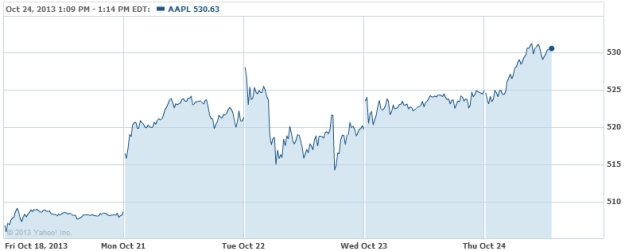 Follow Nathanael on Twitter (@ArnoldEtan_WSCS)
Don't Miss: From Apple to BlackBerry? Former CEO Sculley Considers a Bid.