iFixit Gives Apple's Mac Pro a Positive Review for Repairability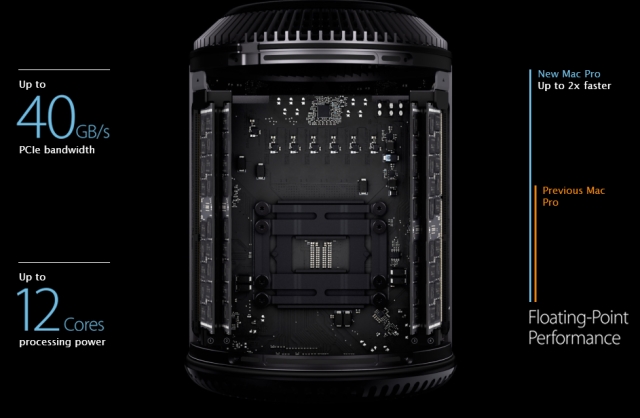 While computer solutions experts have often criticized Apple's Mac computers for being "unrepairable," it seems that the latest model, the cylindrical Mac Pro, is surprisingly different, reports Apple Insider. Despite the new model's unusual cylindrical design the parts of the desktop are fairly easily accessible, making the Mac Pro relatively easy to repair and upgrade. iFixit, the online parts store rife with wiki-style self-repair guides recently dissected Mac's newest desktop model and came away with some positive feedback.
"The design is surprisingly modular and easy to dissemble," said the iFixit staff, speaking with Apple Insider, "non-proprietary Torx screws are used throughout, and several components can be replaced independently," the review continued. One of the key components iFixit covered in their "teardown" include the Mac Pro's RAM. It can be easily accessed upon taking off the computer's exterior, which should make it easy for users to upgrade their desktop's memory without too much fuss.
The system's solid-state drive can be accessed with one turn of a screw, which reveals the flash storage and flash controller. The team at iFixit also found that the computer's central fan is easy for users to access and replace, along with being the key to the device's cylindrical design for quiet cooling, according to Apple Insider.
The Intel CPU on the new Mac Pro is socketed and removable, meaning that upgrades to the system's CPU are possible with "a bit of digging," per Apple Insider. The iFixit team does note, however, that the AMD FirePro D300 graphics card is held in place by a clamp and four screws, which "while this stacks up fairly well for current Apple GPU offerings, the proprietary nature, and lack of an elegant GPU option, may age this device before it's time," per CNET.
The Mac Pro starts at $2,999.00 and sports a 3.7GHz Intel Xeon E5 processor, 12GB of 1866MHz DDR3 ECC memory, as well as a dual AMD FirePro graphics card with 2GB of GDDR5 VRAM, 256GB of PC-le-based flash storage and 802.11ac WiFi with Bluetooth 4.0, according to the Apple website. The Mac Pro will be available in February of 2014. iFixit gave the $3,000 Mac Pro an 8 out of 10 repairability rating (with 10 being the easiest to repair).
 More From Wall Street Cheat Sheet: