Intel: Apple Inspired Haswell Chip Improvements

Intel (NASDAQ:INTC) gave a hat tip to Apple (NASDAQ:AAPL) during its investor day meeting on Thursday. According to Brooke Crothers at CNET, an Intel executive recently noted that Apple's desire to improve the battery life of its MacBook Air pushed the chipmaker to develop a processor that uses significantly less battery power.
"We're extremely excited about the MacBook Air," said Kirk Skaugen, senior vice president of Intel's PC Client Group, reported CNET. "Essentially, cooperating with Apple doubled the battery life from generation to generation — from 6 to 12.5 hours on the MacBook Air."
Apple's latest MacBook Air models were first introduced at the Worldwide Developers Conference in June. The new models include Intel's next-generation Haswell processor,which uses less battery power while offering an even higher workload capability.
According to Apple's website, the 11-inch MacBook Air now lasts up to nine hours between charges. Similarly, the 13-inch model jumped from approximately 7 hours of battery life to an "all day" battery life of 12 hours. Apple also noted that the 11-inch model plays up to eight hours of video, while the 13-inch model plays up to 10 hours.
However, a CNET reviewer found that the new MacBook Air's performance was even more impressive than what Apple claimed. "Battery life is where the new MacBook Air (both the 11-inch and 13-inch versions) really stands out," noted CNET tester Dan Ackerman.
"The previous-generation 13-inch Air ran for 7 hours and 27 minutes in our video playback battery drain test," noted CNET. "The 2013 version blows that out of the water, with an astonishing 14 hours and 25 minutes on the same test." According to CNET, the MacBook Air battery life test was "one of the only times our tests have indicated longer battery life than a manufacturer's claims."
As previously reported by CNET, data from market research firm NPD Group showed that the MacBook Air accounted for 56 percent of the thin-and-light laptop sales in the U.S. market during the first five months of 2013. The remaining 44 percent of the market was split between various other ultramobile device makers.
Besides crediting Apple for inspiring Intel to push the capabilities of its Haswell processors, Skaugen also applauded the Cupertino-based company's adoption of the Iris Pro graphics processor for its iMac and MacBook Pro product lines. Here's how Apple closed on Friday.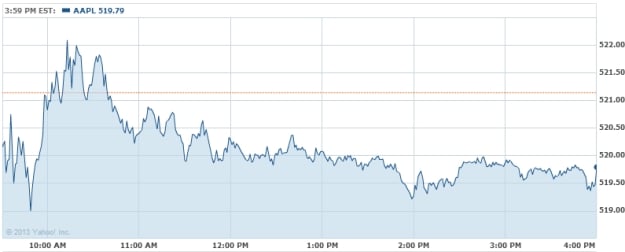 Follow Nathanael on Twitter (@ArnoldEtan_WSCS)
Don't Miss: Apple v. Samsung Jurors Praise Expert Witness.