Intel CEO Missed the iPhone Gravy Train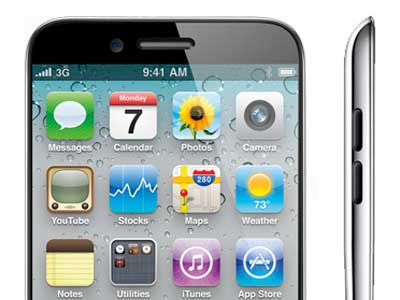 Paul Otellini, who recently concluded his successful eight-year tenure as CEO of Intel (NASDAQ:INTC), seemed to have just one disappointment from his otherwise stellar career — missing the iPhone gravy train. In an interview with The Atlantic, Otellini expressed regret over a huge missed opportunity regarding Apple's (NASDAQ:AAPL) iconic smartphone.
Before Apple released the iPhone in 2007, the company approached Intel about possibly becoming the chip supplier for a new product. This was not long after Apple controversially switched from PowerPC processors to Intel x86 processors for its Macintosh computers in 2006. Unfortunately for Otellini, Intel and Apple were unable to reach a mutual agreement on how much the Cupertino-based company should pay for the chip.
As Otellini explained to The Atlantic, "At the end of the day, there was a chip that they were interested in that they wanted to pay a certain price for and not a nickel more and that price was below our forecasted cost. I couldn't see it. It wasn't one of these things you can make up on volume. And in hindsight, the forecasted cost was wrong and the volume was 100x what anyone thought."
The product that Apple wanted Intel to provide chips for was of course, the iPhone. However, in Otellini's defense, this was before the emergence of the smartphone market and no one knew that the iPhone would become one of Apple's most successful products. As the CEO sheepishly pointed out, "The thing you have to remember is that this was before the iPhone was introduced and no one knew what the iPhone would do."
So what did Otellini learn from his mistake in missing the lucrative iPhone gravy train? Otellini offered some words of wisdom for CEOs and investors alike. "The lesson I took away from that was, while we like to speak with data around here, so many times in my career I've ended up making decisions with my gut, and I should have followed my gut. My gut told me to say yes," he said. Don't worry Otellini — to paraphrase Casablanca – you'll always have the Mac.
Here's how Apple and Intel has traded over the past week.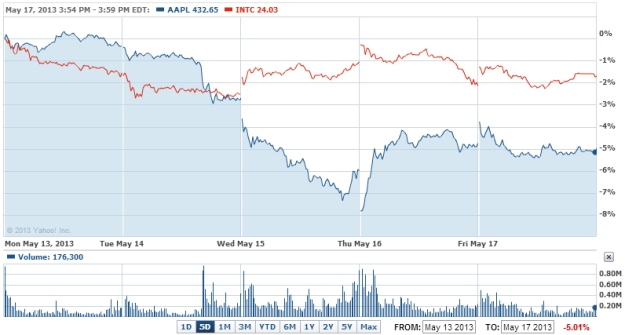 Follow Nathanael on Twitter (@ArnoldEtan_WSCS)
Don't Miss: Apple Goes Big With New Display Technology.