Intel Forecasts Little Revenue Change for 2014
Intel Corp. (NASDAQ:INTC): Current price $23.89
Speaking at an investor meeting, Intel Chief Executive Brian Krzanich said that revenue in 2014 will not be much changed from the 2013 levels, which was short of analysts' estimates, igniting the steepest drop in shares in 10 months. Intel forecasts that sales will be roughly the same from $52.6 billion in 2013, under the $53.7 billion analysts projected, according to the average of estimates compiled by Bloomberg. The chipmaker also said that it will expand access to its factories for its peers, taking advantage of advanced output capabilities and looking to boost revenue sources during a time of greater competition. Krzanich said that Intel will center more on providing what customers want, as opposed to trying to push its own designs.

Oracle Corp. (NYSE:ORCL): Current price $34.80
At the 2013 Enterprise World conference in Orlando, OpenText, which is an innovator in Enterprise Information Management and a Platinum level member of Oracle Partner Network, unveiled OpenText Extended ECM for Oracle E-Business Suite. The application combines the power of the new OpenText Content Suite with Oracle E-Business Suite, permitting businesses to bring Oracle ERP content and processes together with Enterprise Content Management to help improve business functions with strong information management, governance, and discovery.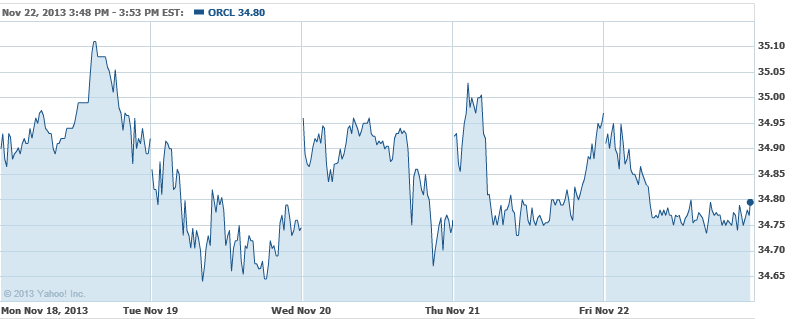 Pandora Media Inc. (NYSE:P): Current price $29.24
Pandora executives are saying that some listeners are "experimenting" with Apple's iTunes Radio, as Pandora's earnings guidance fell behind analyst expectations. October active listeners for the Internet radio firm fell by 2.6 percent from September to 70.9 million, but that number is up by 20 percent from October of last year. Chief Executive Brian McAndrews, who came to Pandora in September, remarked on a conference call with analysts late Thursday that, "We attribute this decline to Pandora's most casual listeners experimenting with other services, most likely iTunes Radio."

Don't Miss: Bitcoin Is Cashing in on These New Partnerships.