Intel Processor Scores Major Win With Samsung and 2 Other Hot Stocks to Watch
Intel Corporation (NASDAQ:INTC): Current price $24.66
A knowledgeable source tells Reuters that Samsung Electronics has selected an Intel processor to power a new version of one of its top-like Android tablets, marking a major victory for the chipmaker. Samsung chose Intel's Clover Trail+ mobile chip for a minimum of one version of its Galaxy Tab 3 10.1, which is rival to Apple Inc's iPad, said the source on Thursday. Prior to now, Samsung has used chips created with energy-efficient tech from the United Kingdom's ARM Holdings to be used in its best-selling mobile devices, and employs Intel processors for its line of Microsoft Windows "ATIV" tablets, which is a much smaller market in comparison to with devices based on Google's Android.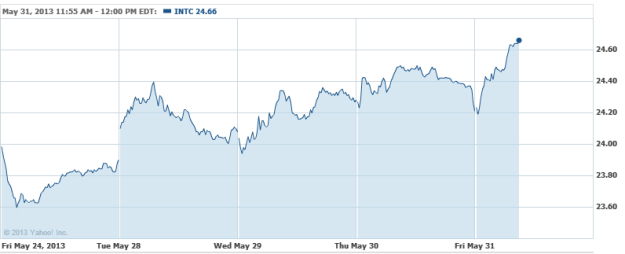 Sirius XM Radio (NASDAQ:SIRI): Current price $3.52
On Friday, Sirius said that Will and Jaden Smith, the father-and-son-duo and stars of After Earth, will participate in a question and answer session with a select group of SiriusXM listeners at the company's studios in New York City. SiriusXM's Town Hall with Jaden Smith and Will Smith took place on May 30, and will air on May 31 at 3:00 pm on Entertainment Weekly Radio, via satellite on channel 105, and through the SiriusXM Internet Radio App on smartphones and other connected devices, along with online at siriusxm.com.

Citigroup (NYSE:C): Current price $53.02
Citi announced Friday that it has hiked the maximum aggregate principal amount of notes that it will accept for purchase, through its previously reported cash tender offers with respect to each series of notes from $400 million to $650 million. These offers are in-line with the firm's liability management strategy, and reflect its ongoing endeavors to enhance the efficiency of its funding and capital structure. Since the beginning of 2012, Citigroup has retired about $22.7 billion of senior debt, subordinated debt, preferred and trust preferred securities, lowering its overall funding costs and efficiently deploying its liquidity.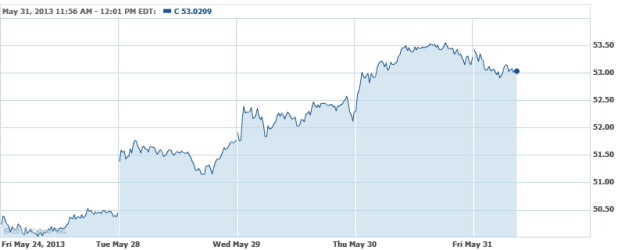 Don't Miss: Here's Why Dell Wants to Go Private With Company Founder.