Interwebs Get This First Video of the Rumored iPhone 5C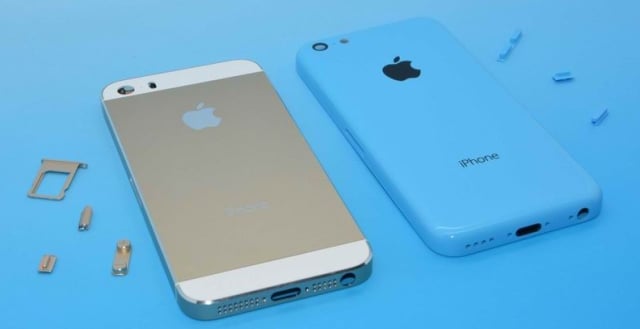 With September 10 finally nearing, Apple (NASDAQ:AAPL) consumers, investors, and analysts are growing more and more anxious about the unveiling of the tech giant's newest line of smartphones. Apple is widely expected to roll out the next-generation iPhone 5S at that date's special event, and many others believe that a low-cost iPhone 5C will also be revealed.
But some consumers simply can't wait until September 10 to see what the iPhone 5C will entail, and that's why they'll be happy to know that they might not have to. According to Apple Insider, Chinese tech blog C Technology released the first video of the rumored iPhone 5C Monday and despite its grainy quality, it offers a preview of what consumers could expect to see next week.
C Technology's video is only about 50 seconds long, but it still provides answers to a handful of questions that have circulated surrounding the structure and setup of the 5C. Viewers can see from the clip that the phone's ear speaker and front-facing camera mirror that of the current iPhone 5. The device is cased in a red or pink plastic shell.
Apple Insider also highlights that close examination of the phone in the video illuminates the handset operating on Wi-Fi, evidenced by a plane icon in the top left corner of the screen indicating Airplane Mode, and connection status bars also reside to the left of that icon. One app, Safari, is featured in the video — and its page loading speed, scrolling, and gesture input all seem to align with current generation technology.
In addition, highlighted on the right hand side of the device's screen is an icon that signals the presence of AssistiveTouch, the accessibility feature built into iOs that is purposed to help with UI navigation. Thus, the 50-second clip is helpful in that it aligns with many rumored expectations for the phone and provides a window into the iPhone 5C's structure and support. However, Apple Insider and other news sources informed of the video are still hesitant to fully recognize its legitimacy.
As aforementioned, the quality of the clip leaves much to be desired, and its contents also seem questionable in that they almost perfectly align with rumors of the iPhone 5 running iOS 7 "shoehorned into a leaked plastic shell," as Apple Insider explains. It is possible, therefore, that C Technology simply combined all the Apple rumors to preview what a "hybridized handset" would look like, but that still remains unclear. Luckily, we only have a week to wait and see whether C Technology's video is accurate after all, and if rumors of a the low-cost iPhone even ring true.