Investors Look for Reasons to Take Markets Higher
Dow Jones Industrial Average climbs as investors love U.S. stocks.
The Dow Jones Industrial Average (NYSEARCA:DIA) gained 0.3 percent for the week while the S&P 500 (NYSEARCA:SPY) gained 0.1 percent. The Nasdaq (NYSEARCA:QQQ) dropped 0.5 percent as Apple (NASDAQ:AAPL) lost 1.1 percent for the week. The Russell 2000 (NYSEARCA:IWM) fell 2.1 percent. Big name stocks like Apple, Amazon (NASDAQ:AMZN), and Tesla (NASDAQ:TSLA) all fell from the previous Friday's close.
On My Stock Market Radar
So the current situation is that the major indexes have put in recent tops and then failed at breaking above them. Furthermore, the Russell 2000 and Nasdaq are generally market leaders and now start to show weakness. The Dow remains on a point and figure "sell" signal and has put in an all too obvious double top formation.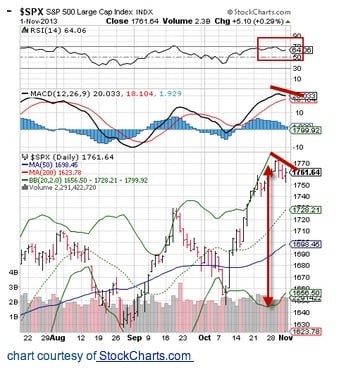 A glance at the S&P 500 chart above shows us that the index is near overbought levels with momentum declining with its price declining and near the outer limit of the upper Bollinger Band. A quick glance to the past on this chart shows that over-extensions like this one usually result in declines to the lower band.
Stock Market News You Can Really Use
Economic reports were mostly positive last week with China's PMI rising to 51.4 compared to September's 51.1. Closer to home, the ISM report for October showed a climb to 56.4, comfortably above the 50 demarcation line between expansion and contraction. Nevertheless, the environment looks tricky as the budget ceiling debate/government showdown is set to resume shortly and economic growth remains anemic. Consumer confidence fell to to 71.2 from last month's 80.2, widely missing expectations, and U.S. home sales tumbled 5.6 percent.
Nevertheless, major indexes posted strong October results with the Dow gaining 2.7 percent and the S&P 500 adding 4.3 percent. Next week will see a tidal wave of important economic reports, including:
Monday: September Factory Orders
Tuesday: October ISM Services
Wednesday: September Leading Economic Indicators
Thursday: weekly jobless claims, Q3 GDP report
Friday: October Non Farm Payrolls and unemployment, September income and spending, University of Michigan Consumer Sentiment
Earnings report will also continue, however, many of the high profile, bellwether companies have already reported.
The Dow Jones Industrial Average and other major U.S. indexes consolidate just below recent highs as investors look for a reason to take prices higher as the global economy remains tepid and a new political budget battle looms just ahead.
John Nyaradi is the author of The ETF Investing Premium Newsletter.
Don't Miss: 4 Ongoing Crises Americans Must Live With.