iPad Slows As Surface Grows: Microsoft Proves Its Worth to Apple
In addition to all the quarterly earnings numbers pouring in from companies across industries, the report periods are also opportune times to check in on the progress of products. From cars to computers, research firms use the new data to find out how consumer tastes are changing (or not) so companies can make adjustments accordingly.
Just released are the new tablet computer market share figures and while Apple (NASDAQ:AAPL) fans can rejoice as the iOS-based iPad still maintains a lead over Google's (NASDAQ:GOOG) Android platform, Microsoft (NASDAQ:MSFT) loyalists also have reason to celebrate, having picked up 7 percent of the tablet market in the past year.
The iPad has long been the dominant tablet since its release. Years later that is still the case, albeit slightly less so. Of the 40.6 million tablet units shipped in the first quarter, 19.5 million of them — 48.2 percent — were carrying the Apple logo. Though its first-place margin has slipped dramatically since last year when it had 63.1 percent, it's always good to note that Apple's product is produced by a singular company, while the Android market is built on several different manufacturers.
Android's platform grew by 9 percent year-over-year, and now accounts for 43.4 percent of the tablet market, at least for the first quarter. This equates to 17.6 million units, a rapid constricting of its margin between second and first over the last 12 months.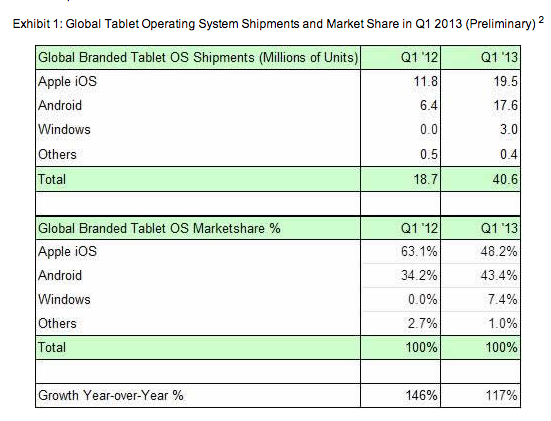 Arguably, Microsoft is the real standout here. Its Surface tablet, running Windows 8, snagged a 7.4 percent year-over-year increase, up from zero percent since Windows 8 had not yet been released. Given the optimized OS was only released in the Fall, the market share grab happened in just under six months, making the figure all that much more impressive. Though its stake in the market is fractional in comparison to the other players, which have been in the game longer, Strategy Analytics — which conducted the research — dubs it a "niche" portion, noting that "very limited distribution, a shortage of top tier apps, and confusion in the market, are all holding back shipments." However, these factors will likely turn around as the system matures.
Also worth noting are the analyst sentiments swirling around during the first quarter which speculated that slower iPad growth was at least partially attributable to consumers holding off for a new model, which Apple has yet to announce. Depending on when that announcement comes, Apple may be able to expand its market stake, or at the very least, slow its stake decline.
Here's how Apple, Microsoft and Google finished trading this week:

Don't Miss: What Does Apple's Dividend Hike Really Mean For Investors?