IPhone Case Sales May Give Apple an Earnings Bonus
Will Apple (NASDAQ:AAPL) get a share price boost from one of its best-selling accessories? A recently released study from Consumer Intelligence Research Partners of Chicago revealed that Apple secured a significant portion of the iPhone case market with its new cases for the iPhone 5S and iPhone 5C.
According to CIRP's survey data, 76 percent of all iPhone buyers also owned a case for their device. "This is the highest attachment rate among accessories," noted CIRP partner and co-founder Josh Lowitz. The high rate of case ownership among iPhone buyers also makes it one of the most lucrative Apple accessory markets.
When Apple introduced the iPhone 5S and iPhone 5C on September 10, the company also unveiled its own line of Apple-branded cases.  Despite being a newcomer to the iPhone case market, CIRP's survey data revealed that Apple's share of the iPhone case market exceeded all other brands except Otterbox only 30 days after the new iPhone models were launched. Apple cases accounted for 15 percent of iPhone 5S case sales and 10 percent of iPhone 5C sales.
Using CIRP's survey data, Forbes tech commentator Chuck Jones calculated how Apple's success in the iPhone case market might impact the company's earnings. First, Jones assumed that Apple will sell a total of 57 million iPhone units in the December quarter. Based on CIRP's data, Jones estimated that Apple will sell approximately 42 million iPhone cases in the current quarter. About 12 million of these cases will be for the iPhone 5C and will have a gross margin of 40 percent. The other 30 million will be for the iPhone 5S and have a gross margin of 60 percent.
According to Apple's website, the "premium leather" iPhone 5S cases costs $39 each and the silicone iPhone 5C cases cost $29 each. Based on Jones's sales number estimates, Apple's case sales would generate $119 million in revenue. After subtracting taxes, Jones predicted that Apple's case sales might add $0.10 to its earnings per share for the December quarter.
He also noted that Apple's case sales would add $0.29 to its total fiscal 2014 EPS. Jones concluded that this would add a full $3 to Apple's share price at its current price-earnings ratio. Although this may not have a large immediate impact on Apple's earnings, it appears that the addition of its case sales will provide the Cupertino-based company with a reliable source of revenue for years to come.
Here's how Apple closed on Friday.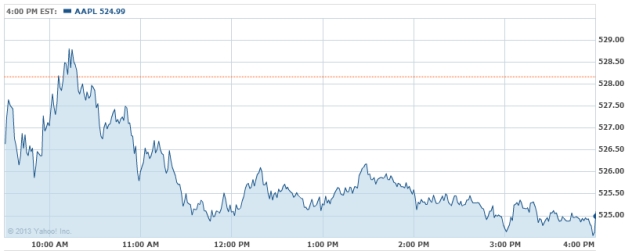 Follow Nathanael on Twitter (@ArnoldEtan_WSCS)
Don't Miss: OS X Mavericks Fuels Surge in Apple's Update Traffic.