iPhone Launches Tomorrow, JPMorgan's Whale of a Fine: Market Recap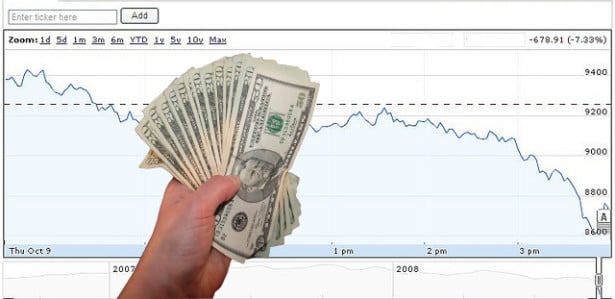 U.S. stocks fell after hitting a record yesterday when the Federal Reserve determined not to cut back on stimulus. While many economists had expected the central bank to begin cutting back on bond purchases after yesterday's meeting, the Fed decided it needed more evidence of economic recovery before beginning tapering. Economic data today showed that sales of previously owned homes rose in August and last week jobless claims rose less than had been predicted.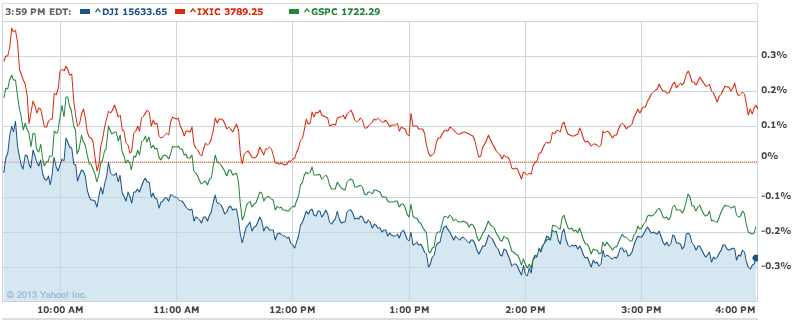 Gold: +4.47% to $1,366.10 per ounce Oil: -1.60% to $105.56 per barrel U.S. 10-Year: +1.48 to 2.748%
Just as the Fed Said: Labor Good, Not Great: Federal officials say that the unemployment rate, which dropped to 7.3 percent in August, will fall to between 7.1 percent and 7.3 percent by the end of the year and to 6.5 percent, the Fed's target unemployment rate, sometime in 2014.
Here's How the Fed's Decision Impacts the Eurozone: The U.S. Federal Reserve's decision not to scale back quantitative easing may help interest rates in Europe stay low, Reuters reports. In an unexpected move, the Federal Open Market Committee decided against tapering quantitative easing during its September meeting, meaning it will go ahead with the full $85 billion per month program into the near future.
Did the Federal Reserve Ignite a New Gold Rush? It has been a punishing year for the price of gold. After enjoying twelve consecutive annual gains unscathed, the precious metal is one of the worst performing assets in the market this year. Sentiment reached fresh lows, and many investors simply threw in the towel amid a stock rally that doesn't seem to quit. However, the Federal Reserve's recent decision to keep purchasing bonds at its current pace has breathed new life into gold investors.
Schumer: Yellen Would Be an Excellent Choice for Fed Chair: When former Treasury Secretary Lawrence Summers withdrew his name for consideration to be the next leader of the Federal Reserve, there was really only one person left in the race: current Vice Chair Janet Yellen. While others such as former Vice Chair Donald Kohn are reportedly in the running, Yellen has been considered the crowd favorite.
Here's your cheat sheet to today's top stocks stories: 
General Motors (NYSE:GM) is getting closer to being no longer government-owned as the government is continuing to do its part in reducing its stake in GM. Its most recent sale of shares came Tuesday. Bloomberg reported that the Treasury recorded another sale, putting its stake now at 7.3 percent, down from the original 60.8 percent figure for the government's GM bailout in 2009.
JPMorgan Chase & Co. (NYSE:JPM) earned $13.1 billion in investment bank revenues in the first half of 2013, according to a report compiled by analytics firm Coalition. JPMorgan's haul accounted for just more than 15 percent of total investment banking revenues, putting JPMorgan ahead of of rivals.
Boeing's (NYSE:BA) bulky, four-engine jet, known as the C-17, an aircraft capable of carrying tanks, supplying troops, and performing medical evacuations across the globe has stopped being ordered by the United States Air Force. On September 12, during a ceremony at Boeing's assembly plant in Long Beach, California, the military took delivery of the 223rd and final Boeing C-17 Globemaster III that will ever manufactured for the Air Force.
Pandora Media (NYSE:P) notched a victory against the American Society of Composers, Authors, and Publishers in court Wednesday. A judge granted Pandora a court order prohibiting ASCAP from limiting the songs it allows Pandora to use, Bloomberg reports.
Apple (NASDAQ:AAPL) customers in China will have access to the latest of Apple's iPhones on the same day as consumers in North America, Europe, and Japan for the first time. Apple's iPhone 5C and iPhone 5S will launch in those markets Friday at 8 a.m. local time.
Groupon (NASDAQ:GRPN) announced Wednesday that it purchased SideTour, the owner of a marketplace for booking and selling access to local activities and events, though further terms were undisclosed. Groupon said that SideTour "currently offers more than 500 public and private events with more than 400 hosts using the platform."
Walt Disney Co. (NYSE:DIS) had its rate dropped by Morgan Stanley to Equal-weight based on concerns that the company lacks near-term catalysts. Given that there are no Pixar movies scheduled for release next year, due to a delay in the studio's launch schedule, Morgan Stanley's downgrade could lead others down the same road.
Follow Jacqueline on Twitter @Jacqui_WSCS
Don't Miss: How Many iPhones Will Apple Sell? Here's What the Analysts Say.