iPhone Sales Smash Expectations, BlackBerry's Going Private: Market Recap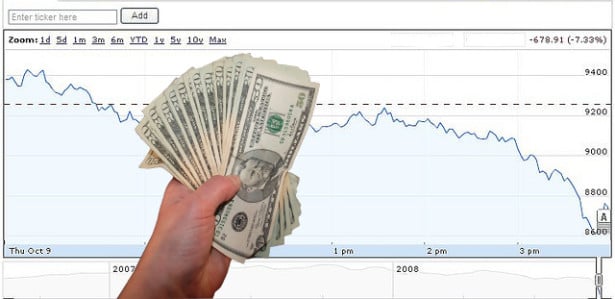 U.S. stocks fell during trading today as a drop in trading revenue for some of the country's biggest banks has been forecast and investors are feeling unsure about the Federal Reserve's plans for stimulus after the central bank made the surprise announcement last week that it would continue its $85 billion a month bond purchases. Stocks rallied last week after the announcement, but have now lost most of the gains made.
Gold: -0.77% to $1,322.20 per ounce Oil: -1.27% to $103.42 per barrel U.S. 10-Year: -0.66 to 2.714%
American Working-Age Poverty Is Near Record High: One of the most striking trends in recent poverty data has been the rise in poverty among the working-age population. The poverty rate for working-age individuals (defined as 18 to 65 years) has risen, and has continued to rise during the current economic recovery. It reached 13.7 percent of the population in 2010, and has not showed a statistically significant change from that level since.
What Does the Broad Unemployment Rate Really Tell Us?: During the recent deep recession and slow recovery, U-6, an alternative measure of unemployment issued by the Bureau of Labor Statistics, has received increased attention. People often refer to U-6, which includes several groups of workers in addition to the officially unemployed, as the "broad unemployment rate."
CBO: We Have a Tax Problem, Not a Spending Problem: The non-partisan Congressional Budget Office has released its 2013 Long-Term Budget Outlook, and it has some great news. Specifically, CBO is predicting substantially lower healthcare spending this year and 25 years into the future.
Real Economic Growth Versus Fiscal Drag: Evenly Matched, For Now: Now that the great non-event has had time to settle over the markets — the yield on the 10-year Treasury came down about 0.2 percentage points and equities soared to fresh all time highs in the wake of the announcement — investors appear to be revisiting their economic expectations.
Here's your cheat sheet to today's top stock stories: 
Citigroup (NYSE:C) will report the results of its operations from the July through September quarter on October 15, and the numbers are likely to show it was a tough three months for Citigroup's trading division. Through sources familiar with conversations held between investors and bank officials in recent days, the Financial Times learned that Citigroup's trading revenues dropped significantly in the third quarter.
Apple (NASDAQ:AAPL) blew most analysts' expectations out of the water today when it revealed that it sold a record-breaking nine million iPhone 5S and iPhone 5C models over the launch weekend. Although Apple didn't break down the sales by model, Apple noted that, "Demand for iPhone 5S has exceeded the initial supply, and many online orders are scheduled to be shipped in the coming weeks."
BlackBerry (NASDAQ:BBRY) is going private. BlackBerry announced Monday that it would be sold for $9 a share to a consortium led by Fairfax Financial Holdings, a deal that values BlackBerry at a total of approximately $4.7 billion. Fairfax is the company's largest shareholder, with a 10 percent stake.
News Corp. (NASDAQ:NWSA) showed in a recent filing that the publishing company has made a profit, which is a turn around from last year's loss. News Corp. under chairman Rupert Murdoch split this off from the rest of his entertainment business in June. News Corp. made a profit of $506 million ending in June, which is a good boost from the loss of $2.08 billion a year.
Time Warner's (NYSE:TWX) HBO and AMC Networks' (NASDAQ:AMCX) AMC had special reason to celebrate Sunday night, as their respective series nabbed a number of prizes at the Emmy Awards and presumably sparked further viewer interest in their shows. Series like The Newsroom, Boardwalk Empire, and Behind the Candelabra gave HBO the most Emmy hoopla, while Breaking Bad was the star of the night for AMC.
EBay Inc.'s (NASDAQ:EBAY) PayPal is reportedly moving closer to acquiring mobile payments startup Braintree Payment Solutions, The Wall Street Journal reports. People familiar with the matter cautioned the Journal that the talks could break down, but Braintree's transaction fees and valuable mobile data would help PayPal maintain its leadership the mobile payments sphere with an already incredibly successful company.
Follow Jacqueline on Twitter @Jacqui_WSCS
Don't Miss: Apple's Record-Breaking iPhone Numbers Shatter Expectations.