Ireland to Apple and Google: No Tax Questions Here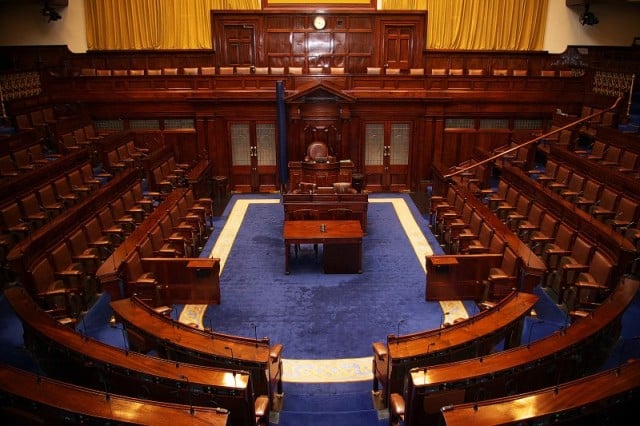 An attempt to bring in representatives of Apple (NASDAQ:AAPL) and Google (NASDAQ:GOOG) for questioning about their tax practices in Ireland was defeated in a parliamentary committee vote. The motion was introduced by Sinn Féin politician Pearse Doherty, who wanted to question the tech companies about their tax-avoidance strategies.
"Given the fact that multinational corporations have appeared at committees in Britain and the United States to give evidence about their tax affairs in Ireland, it is ridiculous that politicians here in Ireland would vote down a proposal for them to do the same here," said Doherty via The Register. Apple CEO Tim Cook testified about Apple's overseas tax practices at a U.S. Senate hearing in May.
The recent Senate hearing revealed that Apple has avoided income taxes on $74 billion in profit made between 2009 and 2012 by using multiple subsidiaries based in low-tax countries such as Ireland. Apple is able to reduce its tax rate by taking advantage of the differences between the tax laws in Ireland and the U.S.
In a tax strategy known by the colorful name of "Double Irish," Apple set up two separate companies in Ireland. One company owns the intellectual property while remaining a resident of a tax haven such as the Bahamas. The other company licenses the intellectual property of the first company for a sizeable fee.
After this fee is deducted from the sales income of the second company, it leaves a relatively low amount of income that is taxed at Ireland's low 12.5 percent rate.  In contrast, the current U.S. corporate tax rate is 35 percent.
Although there were allegations at the U.S. Senate hearing that Apple had negotiated a special tax rate with Ireland, it appears that the Cupertino-based company is merely taking advantage of existing legal loopholes in international tax laws. When Tim Cook made his appearance in front of the Senate hearing, he insisted, "We pay all the taxes we owe, every single dollar. We not only comply with the laws, but we comply with the spirit of the laws. We don't depend on tax gimmicks."
In a letter to the U.S. Senate, Ambassador of Ireland Michael Collins took issue with the Senate's characterization of Ireland as a "tax haven." He noted that the Organisation for Economic Co-operation and Development, or OECD, does not consider Ireland a tax haven since it has none of the "four key indicators of a tax haven."
Although the Irish government won't be calling representatives of Apple or Google as witnesses, it does still plan to investigate the tax practices of multinationals in its country. Here's how Apple and Google have traded over the past five days.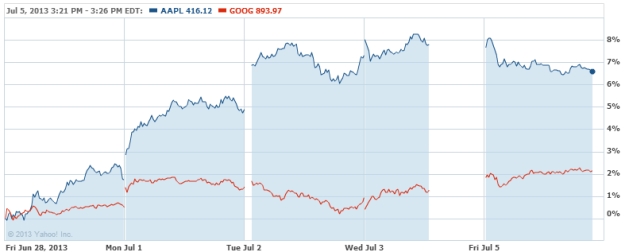 Follow Nathanael on Twitter (@ArnoldEtan_WSCS)