Is a Large-Screen iPhone Already in the Works?

Is Apple (NASDAQ:AAPL) on the verge of breaking its 4-inch smartphone screen barrier? Although Apple is debuting two new iPhone models with 4-inch screens next week, it appears the company is already planning to develop several iPhone models with larger displays.
According to unnamed sources cited by the Wall Street Journal, Apple is considering the production of several new iPhone models that would feature screens that are significantly larger than the iPhone 5's 4-inch display. The sources report that these larger iPhones could have screen sizes ranging from 4.8 inches to 6 inches. Although the Wall Street Journal's sources seem confident that Apple is already testing devices with larger screens, the eventual release of these smartphone models is not guaranteed. Insider sources point out that Apple often tests various types of devices before deciding on a final strategy.
Samsung (SSNLF.PK), Apple's biggest rival in the smartphone market, has long used its varied smartphone product line to attract more customers who are looking for different sizes of devices in various price ranges. Samsung most recently unveiled the Galaxy Note III, a smartphone/tablet hybrid device that features a 5.7-inch screen. Samsung's lower-priced devices have also allowed the Korea-based company to seize a larger share of emerging markets such as China.
Meanwhile, Apple's third-quarter revenue in the Greater China market fell 14 percent from the same quarter last year and declined 43 percent from the March quarter this year. However, Apple's upcoming lower-price iPhone 5C is widely expected to help the Cupertino-based company seize a larger share of this increasingly important market.
Despite typically releasing only one smartphone model at a time, Apple's iOS operating system still maintained the second-place ranking in the worldwide smartphone market in the second quarter of 2013 with a 13.2 percent share according to the latest data from market research firm IDC. Android, the operating system used by Samsung and many other smaller smartphone vendors, held a 79.3 percent share of the market.
However, if Apple were to release several large-screen iPhones along with its upcoming lower-price iPhone 5C, it may soon be able to undermine Samsung's two current market advantages. Here's how Apple has traded so far this week.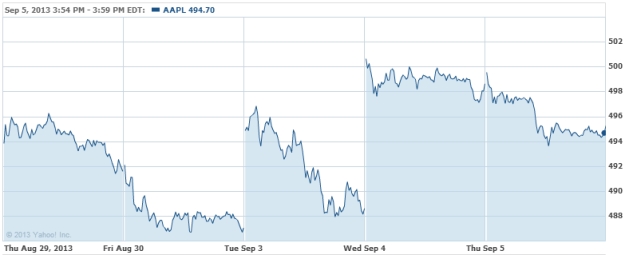 Follow Nathanael on Twitter (@ArnoldEtan_WSCS)