Is a Solar-Powered iPhone Next?

Apple's (NASDAQ:AAPL) extensive use of renewable energy for its data centers is already well-known. However, a recently posted job listing suggests that the Cupertino-based company may also be working on a renewable energy solution for its future mobile devices, reports Apple Insider. Apple's "Mobile Devices group" is currently seeking an engineer with "Extensive experience with thin-film technologies in either semiconductor processing or solar industries."
Apple has a long history of exploring solar energy technologies for both its mobile devices and its data centers. The company has previously filed patents that describe solar cell technologies that can be used to generate power for portable electronic devices. Other filed patents cover methods for integrating a solar assembly into a touchscreen display.
Although the new job posting could be related to the development of a solar-powered mobile device, there is also the possibility that the new job is not even directly related to solar power. In other words, the "solar industries" experience qualification may simply be a way for Apple to ensure that the applicant has a particular skill that is also required for general thin films deposition work.
According to the job listing, "Knowledge of thin-films in the context of RF shielding is highly desirable." Apple Insider points out that this suggests Apple might be exploring alternative technologies to use for blocking radio interference in its iPhones. Since typical RF shielding is made of metal, the use of a thin-film shielding would presumably reduce the overall weight of Apple's devices, as well as possibly saving production costs.
The use of solar power for mobile devices may eventually become necessary as more energy-consuming features are added to increasingly smaller devices. In this sense, Apple's latest job listing may be another indication that the company is one step ahead of the competition. Here's how Apple closed out the trading week.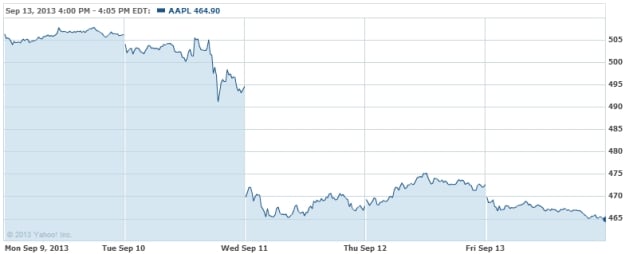 Follow Nathanael on Twitter (@ArnoldEtan_WSCS)