Amazon and Apple Exemplify the Future of Retail
On Thursday, several big retailers delivered disappointing sales for April. Overall, same-store sales increased 2.2 percent for the 18 retailers that reported numbers, according to Reuters. That compares with 11 percent in the prior year. Although this year's number was short-changed by an early Easter and warmer weather pulling sales into March, the combined sales of both months still fell short of the same period in 2011. For March and April, same-store sales increased 4.5 percent, compared to 6.4 percent last year.
Don't Miss: Here's How Apple Will Take Over the World?
With over half of retailers reporting April numbers that missed estimates, Target Corp. (NYSE:TGT) reported one of the biggest surprises to the downside. America's second largest retailer reported a year-over-year increase of only 1.1 percent in April, falling short of 2.9 percent estimates. Target CEO Gregg Steinhafel noted the early Easter and warmer weather, but said in a company statement, "Target's underlying sales trend remains quite healthy, as guests respond to a unique combination of fashion and great prices." On the positive, Target reported its first-quarter 2012 comp-store sales jumped 5.3 percent, compared to the first-quarter of 2011. It was the strongest quarterly performance in more than 6 years.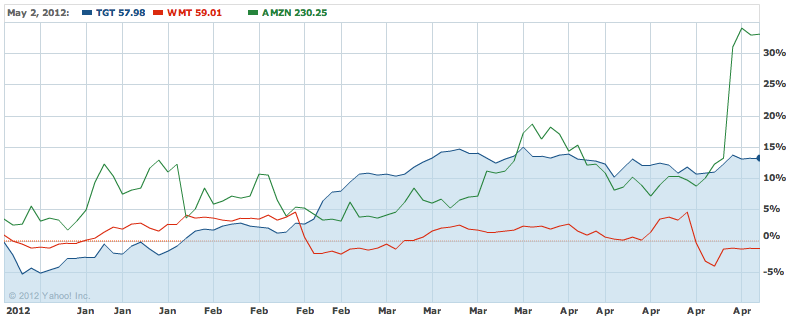 Shares of Target dropped more than 2 percent today, while retailer heavy-weight Wal-Mart Stores Inc. (NYSE:WMT) shares edged only slightly lower. Technology related retailers such as Amazon.com Inc. (NASDAQ:AMZN) and Apple Inc. (NASDAQ:AAPL) were some of the few companies that traded higher. As the chart above shows, it has been a mixed picture in the retail space when considering the biggest and most diversified players. Shares of Wal-Mart have fallen about 1.3 percent year-to-date, while Target shares have increased more than 10 percent. The star performer has been Amazon, surging 33 percent thanks to a better-than-expected earnings report.
Before rushing into high-flying retail names such as Amazon, investors should consider taking a peek at earnings. As long time Wall St. Cheat Sheet readers know, the 'Earnings Are Increasing Quarter-Over-Quarter' is the second 'E' in our CHEAT SHEET investing framework. Even though Amazon, the world's largest online retailer, reported earnings of 28 cents per share in the most recent quarter, it is down from 38 cents in the prior quarter and 44 cents a year earlier. Target and Wal-Mart also have declining quarter-over-quarter earnings.
Amazon's earnings and lofty price-to-earnings ratio of nearly 190 often receives a free pass due to the company's open willingness to forgo profits to boost future sales. However, there is no guarantee on the future success of the company's products. As much as the Kindle Fire satisfies our 'C' for 'Catalyst for a Stock's Movement' CHEAT SHEET investing variable, it still has plenty of competition in the tablet market. Furthermore, Amazon's stock chart now has a large gap due to the recent surge and the smallest hiccup could cause a substantial pullback.
Even though we would be cautious of Amazon's current valuation, YouGov America, a professional research and consulting organization, reports that more low income online shoppers believe Amazon offers a better value on products than retailers such as Wal-Mart. A growing trend that will be important to monitor going forward when comparing online and brick-and-mortar retailer giants.
Investor Insight: Did the Kindle Just Receive a Target on its Back?