Is Apple a Buy at These Prices?
With shares of Apple (NASDAQ:AAPL) trading around $443, is AAPL an OUTPERFORM, WAIT AND SEE, or STAY AWAY? Let's analyze the stock with the relevant sections of our CHEAT SHEET investing framework:
T = Trends for a Stock's Movement
Apple designs, manufactures, and markets mobile communication and media devices, personal computers, and portable digital music players, and a variety of related software, services, peripherals, networking solutions, and third-party digital content and applications. The company's products and services include the iPhone, iPad, Mac, iPod, Apple TV, a portfolio of consumer and professional software applications, the iOS and OS X operating systems, iCloud, and a variety of accessory, service, and support offerings. Apple also delivers digital content and applications through the iTunes Store, App Store, iBook Store, and Mac App Store.
On Tuesday, Apple reported earnings after the bell that beat analyst estimates. On top of that, iPhone sales rose 20 percent, which was higher than expected. However, sales of the iPad fell, as did overall sales in Europe and China, showing that competition is heating up. Apple has been one of the most innovative companies of our time. Its products exist in many homes and companies around the world, and continue to see significant demand domestically and internationally. With rumored upcoming Apple product launches flooding the headlines — namely, the iWatch and new iPhone devices — as well as recently announced products, such as iOS 7, look for Apple to continue to deliver.
T = Technicals on the Stock Chart are Mixed
Apple stock has been on a monster move higher over the last several years. However, the stock has seen a good amount of selling pressure over the last few months. Analyzing the price trend and its strength can be done using key simple moving averages.
What are the key moving averages? They are the 50-day (pink), 100-day (blue), and 200-day (yellow) simple moving averages. As seen in the daily price chart below, Apple is trading between its key averages, which signal neutral price action in the near-term.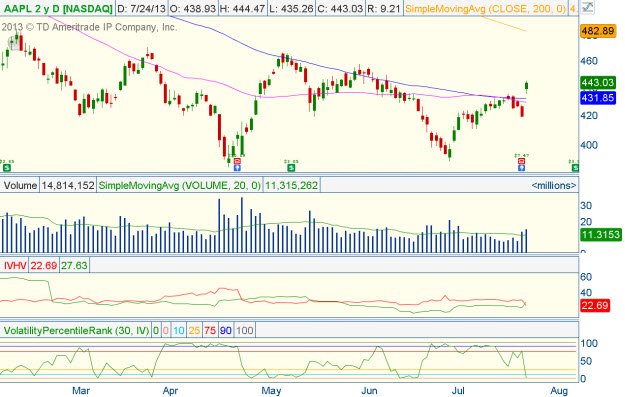 (Source: Thinkorswim)
Taking a look at the implied volatility (red) and implied volatility skew levels of Apple options may help determine if investors are bullish, neutral, or bearish.
| | | | |
| --- | --- | --- | --- |
| | Implied Volatility (IV) | 30-Day IV Percentile | 90-Day IV Percentile |
| Apple Options | 22.69% | 0% | 0% |
What does this mean? This means that investors or traders are buying a very small amount of call and put options contracts, compared to the last 30 and 90 trading days.
| | | |
| --- | --- | --- |
| | Put IV Skew | Call IV Skew |
| August Options | Flat | Average |
| September Options | Flat | Average |
As of today, there is average demand from call buyers or sellers, and low demand by put buyers or high demand by put sellers, all neutral to bullish over the next two months. To summarize, investors are buying a very small amount of call and put option contracts, and are leaning neutral to bullish over the next two months.
On the next page, let's take a look at the earnings and revenue growth rates, and what that means for Apple's stock.
E = Earnings Are Mixed Quarter-Over-Quarter
Rising stock prices are often strongly correlated with rising earnings and revenue growth rates. Also, the last four quarterly earnings announcement reactions can help gauge investor sentiment on Apple's stock. What do the last four quarterly earnings and revenue growth (Y-O-Y) figures for Apple look like, and more importantly, how did the markets like these numbers?
| | | | | |
| --- | --- | --- | --- | --- |
| | 2013 Q2 | 2013 Q1 | 2012 Q4 | 2012 Q3 |
| Earnings Growth (Y-O-Y) | -19.85% | -17.97% | -0.43% | 23.03% |
| Revenue Growth (Y-O-Y) | 0.86% | 11.27% | 17.65% | 27.22% |
| Earnings Reaction | 5.78%* | -0.16% | -12.35% | -0.90% |
Apple has seen mostly decreasing earnings and rising revenue figures over the last four quarters. From these numbers, it seems the markets have had mixed feelings about Apple's recent earnings announcements.
* As of this writing
P = Weak Relative Performance Versus Peers and Sector
How has Apple stock done relative to its peers, Google (NASDAQ:GOOG), BlackBerry (NASDAQ:BBRY), Microsoft (NASDAQ:MSFT), and sector?
| | | | | | |
| --- | --- | --- | --- | --- | --- |
| | Apple | Google | BlackBerry | Microsoft | Sector |
| Year-to-Date Return | -16.81% | 27.70% | -24.18% | 19.73% | 8.16% |
Apple has been a poor relative performer, year-to-date.
Conclusion
Apple is an innovative company that has been providing products and services that consumers and companies have been happy to purchase. The rumored products, as well as as the most recent positive earnings report, may generate some buzz for the company. The stock has not done very well in the last few months, but may be stabilizing around current prices. Over the last four quarters, investors in the company have had mixed feelings, as earnings have mostly been decreasing, while revenue has been rising. Relative to its peers and sector, Apple has been a weak year-to-date performer. WAIT AND SEE what Apple does this coming quarter.
Using a solid investing framework such as this can help improve your stock-picking skills. Don't waste another minute — click here and get our CHEAT SHEET stock picks now.