Is Apple a Sinking Island?
There is no denying that Apple (NASDAQ:AAPL) has rewarded shareholders greatly over the years.  In the past five years, Apple shares have surged 350%.  Apple is considered to be an ecosystem by many, an island surrounded by iClouds and waves of stylish products.  However, recent concerns about the company may rain on shareholder returns.
On Thursday, research firm Cleveland Research, lowered iPad estimates from 14 million to 12 million.  Earning estimates were also reduced to $9.53 per share, compared to a consensus of $9.70 per share.  The firm believes that heavy competition from Amazon's (NASDAQ:AMZN) Kindle Fire will hurt iPad sales.
Investing Insights: Nintendo and Sony Will Lose Gaming Revenue to These 2 Smartphone Giants.
Amazon has responded to strong consumer demand for its Kindle Fire tablet by increasing supplier orders to 5 million units, up from 4 million units. Amazon had already raised its order volume once in the middle of the third quarter, up from 3.5 million units to 4 million units.  In addition to the positive channel news, a new survey of 2600 respondents conducted by ChangeWave and RBC Capital Markets found that 5% of respondents had already pre-ordered or were "very likely" to buy the Fire. This exceeded the 4% who in 2010 said they were very likely to buy the iPad.  Furthermore, Barnes & Noble, Inc. (NYSE:BKS) has its new Nook Tablet coming to the market as well.  Other tablet makers include Google (NASDAQ:GOOG) and Research in Motion (NASDAQ:RIMM).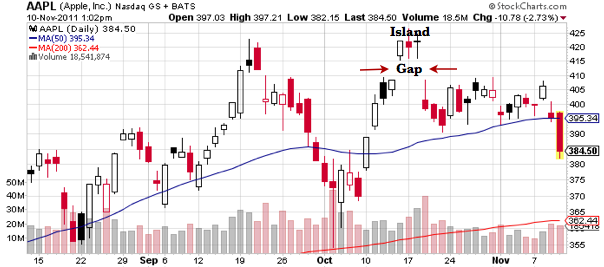 If increased competition and estimate cuts do not make investors head for the hills, Apple's stock chart might.  As the chart above shows, Apple has been unable to hold a steady price above $420 per share.  The most recent decline from $420 is perhaps the most telling.  In mid-October, shares formed a bearish signal called an island top.  Shares formed a gap between $410 and $415 on the way up, and on the way down.  This technical pattern has a 77% success rate of indicating a downward trend.  So far, Apple shares are falling victim to the island top.
The tallest palm tree on the island is Apple's all-time high of $426.70.  The average decline of the island top pattern is 21%, which would send Apple shares down to $337.  Currently, shares have lost about 10% from its all-time high.  Despite numerous concerns about Apple, Citigroup (NYSE:C) analyst Richard Gardner says the decline "represents a buying opportunity."  Although technical analysis can provide insight and confirmation of a larger trend, chart patterns can be a blessing and curse.  Investors looking to dip their toes in Apple shares will also need to consider the underlying fundamentals of the tech giant.
Don't Miss:Verizon Named Fastest 4G Network, Will Shares Respond?