Is Apple Beating Samsung in Taking Care of Users?
Is Apple (NASDAQ:AAPL) beating Samsung (SSNLF.PK) in the race to provide products and services for the lucrative healthcare market? According to Haydn Shaughnessy at Forbes, Apple has a much more coherent strategy than Samsung when it comes to developing future technologies for healthcare.
After helping Nike (NYSE:NKE) establish its Nike + virtual athletic competition community, Apple began carefully acquiring various body sensing and health monitoring intellectual property. As reported by Patently Apple, the Cupertino-based company recently updated a claim found in its "Personal Items Network, and Associated Methods" patent that was originally granted in 2009.
Among other things outlined in the patent, Apple describes an "adhesive strip collectively take a form similar to an adhesive bandage" that contains either a "processor and other elements" or "a single system-on-chip integrated circuit." Apple outlines several scenarios and methods for using this technology, but one of the most important uses could be as a health-monitoring device.
In this sense, Apple is strategically responding to the demand for its products in the healthcare industry. According to a recent study via Electronista, 59 percent of doctors already use tablets in their daily work and the majority of those doctors prefer the iPad over other tablets. Similarly, 68 percent of doctors choose Apple's iPhone over comparable smartphones that use Google's (NASDAQ:GOOG) Android operating system.
Many of these doctors like to use Apple's devices for accessing electronic health records, which includes medical imaging such as X-rays. By combining its advanced sensor strip technology with the iPad's medical imaging potential, Apple is carefully laying the foundation for its entry into the healthcare industry.
On the other hand, Samsung has been purchasing large medical tech companies without seeming to have an overall strategy on how to integrate these various healthcare technologies into its products. Although Samsung has purchased the medical imaging company NeuroLogica and the cardiac point-of-care testing solution company Nexus, it is unclear how Samsung will utilize these acquisitions for its tablets or smartphones.
Forbes notes that Samsung made health monitoring a cornerstone of the Galaxy S4, but "nobody reviews the S4 for its health apps." In the race to provide the future body sensing and medical imaging technologies for the healthcare industry, it appears that Apple may have already won.
Here's how Apple has traded so far this week.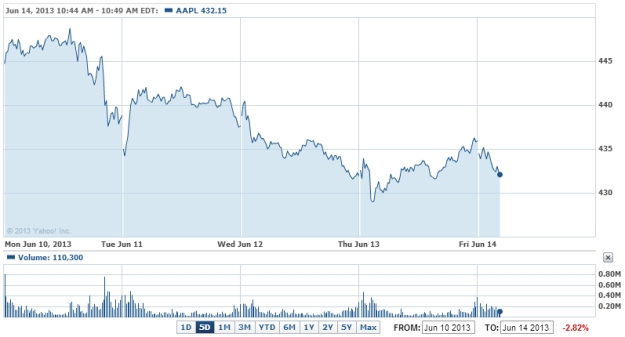 Follow Nathanael on Twitter (@ArnoldEtan_WSCS)
Don't Miss: E-Book Case: Will Eddy Cue's Defense Help Apple?