Is Apple Chasing Samsung With This Eye-Tracking Tech?
Is Apple (NASDAQ:AAPL) reconsidering the implementation of eye-tracking technology into its devices? When Samsung (SSNLF.PK) unveiled the Galaxy S4 in March, it revealed several eye-tracking features for its flagship smartphone. "Smart Scroll" allows a user to scroll by looking at the screen and tilting the phone, while the "Smart Pause" feature automatically stops video playback if the device detects that the user is no longer looking at the screen.
Apple's patent application is titled "Electronic Devices With Gaze Detection Capabilities," and it covers a similar method for interacting with a device based on "gaze detection." As described in the patent abstract, "The device may pause a video playback operation when the device detects that the user has looked away from the device. The device may resume the video playback operation when the device detects that the user is looking towards the device."
Although this seems quite similar to Samsung's "Smart Pause" function, Apple's patent also covers a "power management scheme using the results of gaze detection operations." Essentially this would put the device into a power-saving mode if it detects that a user is no longer looking at it.
Samsung has a patent titled "Apparatus and method for detecting speaking person's eyes and face" that was filed in 2000. However, this patent seems to focus on face detection capabilities rather than a technology that uses eye-tracking to activate or interact with a device.
Apple Insider notes that Apple's recent application is a divisional patent, which means that it claims priority over a previous filing that covered a similar topic. Apple's newest patent does not include five claims from the original patent that was published in 2010, which mostly covered the practical applications of this technology. Instead, Apple has focused its latest patent claims on the technical aspects of the method, such as the "gaze detection circuitry" and the use of an accelerometer to determine if the device is in motion.
Although it's not entirely clear who first patented these methods, neither company has ever instigated any patent infringement claims regarding eye-tracking technology. Here's how Apple has traded so far this week.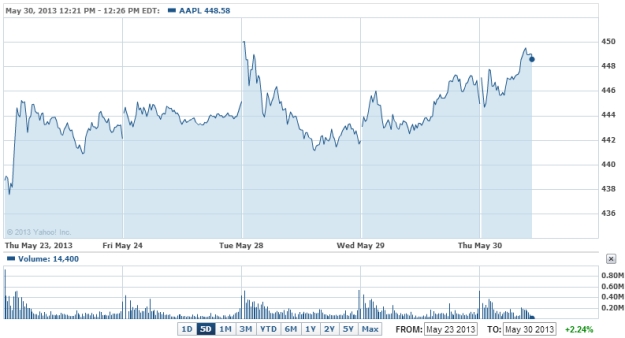 Follow Nathanael on Twitter (@ArnoldEtan_WSCS)
Don't Miss: 5 New Smartphones That Want to End Apple's Dominance.