Is Apple Down for the Count?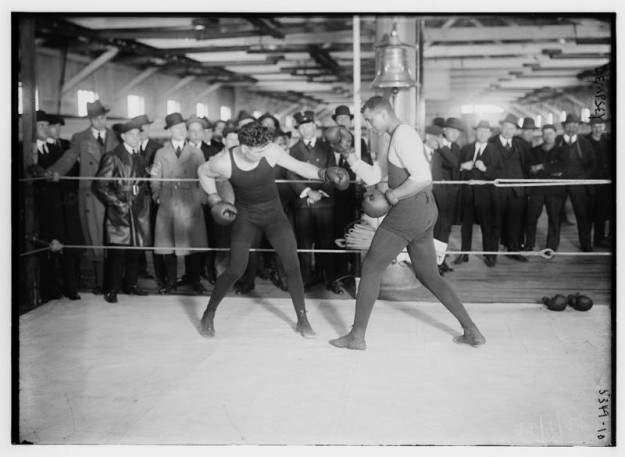 Is Apple (NASDAQ:AAPL) at the beginning of a long-term decline or are investors underestimating an inevitable comeback? Apple will be releasing its earnings report for its fiscal second quarter this Tuesday, and most analysts are predicting that the company will post a year-over-year net profit decline for the first time in ten years. Apple shares closed at $390.53 on Friday after shedding $1.52 or 0.39 percent from its price at the opening bell.
Although Apple shares have lost 44 percent of its value since its high of $705.07 last fall, much of the recent dip in price can be attributed to the market's reaction to an announcement from Cirrus Logic Inc. (NASDAQ:CRUS). According to TIME, Cirrus makes audio chips for the iPhone and iPad and its announcement that it was seeing "a decreased forecast for a high-volume product" caused Apple to lose more than $20 billion of market value on Wednesday. Thanks to Apple's drastic decline, Exxon Mobil (NYSE:XOM) has retaken the title of the world's most valuable publicly traded company reports Fox News.
However, the negative sales forecast from one of Apple's chip suppliers is not the only reason the stock price is in decline. Jay Yarow and Henry Blodget at Business Insider outline some of the reasons behind Apple's sliding stock price. Besides the expected earnings decline in the upcoming quarterly report, Yarow and Blodget also point to some systemic problems in the way Apple is run.
According to Business Insider, CEO Tim Cook does not seem to have "any truly great new products in the pipeline" and is "not a product visionary" the way Steve Jobs was. The iPhone, which has long been Apple's cash cow, is also nearing the end of its product cycle, reports Business Insider.
TIME's Sam Gustin believes growing competition from rival phone maker Samsung (SSNLF.PK) and other devices using Google's (NASDAQ:GOOG) Android platform are also "weighing down Apple's stock price." He also notes that Apple's iPhone is no longer a cutting edge product and doubts that small upgrades to the iPhone and iPad can sustain long term growth. Gustin also believes that the stock may continue to fall in the near future since most analysts do not expect a new product launch until the summer or fall.
However, when expectations are set so low, things can only get better. Yarow and Blodget at Business Insider note that Apple's stock has gotten so cheap that "Even if Apple's profit margin gets cut in half, and even if the company's revenue never grows again, Apple will still generate enough cash to pay back investors in 12-13 years for buying the business today."
Even without a truly revolutionary new product, product refreshes for the iPhone and iPad mini will undoubtedly create consumer excitement and continue to generate profits. According to Business Insider, Apple also appears to be responding to the demand for a cheaper version of the iPhone, which will create long-term growth.
Finally, Yarow and Blodget observe that no one really knows what Apple has up its product-development sleeve and the Cupertino-based company may very well surprise consumers again with a "revolutionary new product like a TV or smartwatch." Unlike PC makers such as Dell (NASDAQ:DELL) or Hewlett-Packard (NYSE:HPQ) that are part of dying industries, Apple is still in a strong strategic position, reports Business Insider. All Apple needs to do to reverse its fortunes is unveil another must-have product and it could very well once again become the darling of Wall Street.
Here's how Apple traded throughout the week.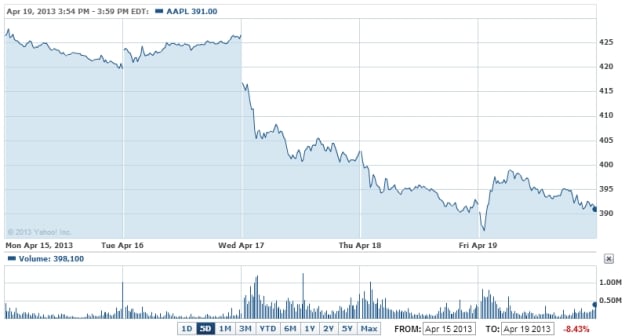 Don't Miss: Is the iPhone Driving All Smartphone Sales Growth?