Is Apple In Trouble Over Taxes?
Approximately $100 billion of Apple's (NASDAQ:AAPL) cash reserves is strategically kept overseas and out of the reach of America's tax collectors. Although this is a common practice for large companies with overseas earnings, it appears that Apple will soon be the subject of a Senate hearing on its offshore tax practices. According to anonymous sources via Bloomberg, Apple CEO Tim Cook will testify at the hearing that is scheduled for May 21.
The Senate Permanent Subcommittee on Investigations has previously looked into the tax strategies of other large technology companies, including Hewlett-Packard (NYSE:HPQ) and Microsoft (NASDAQ:MSFT). Apple recently funded its capital return plan with U.S.-based debt rather than repatriating its overseas cash. According to Moody's Investment Services, this saved the Cupertino-based company $9.2 billion in taxes.
"We've been working with the subcommittee to answer their questions about Apple, and we welcome any further questions they might have. Apple is one of the largest taxpayers in the United States, having paid $6 billion in federal corporate income tax in fiscal 2012. We also help create hundreds of thousands of jobs in the U.S. by keeping our R&D in California and creating category-defining products like the iPhone, iPad, and the app store, which have generated billions of dollars in sales for software developers," said Apple spokesperson Steve Dowling.
Regarding the upcoming hearing, the Senate Permanent Subcommittee on Investigations posted a statement on its website that reads: "The Subcommittee will continue its examination of the structures and methods employed by multinational corporations to shift profits offshore and how such activities are affected by the Internal Revenue Code and related regulations. Witnesses will include representatives from the Department of the Treasury, the Internal Revenue Service, representatives of a multinational corporation, and tax experts. A witness list will be available Friday, May 17, 2013."
Earlier this year, Apple finance chief Peter Oppenheimer explained the reasoning behind Apple's tax strategy during an analyst conference call, "We are continuing to generate significant cash offshore, and repatriating this cash would result in significant tax consequences under current U.S. tax law." Despite the tax savings Apple was able to reap from its recent bond offering, the company is still one of the largest corporate taxpayers in the U.S.
Here's how Apple has traded so far this week.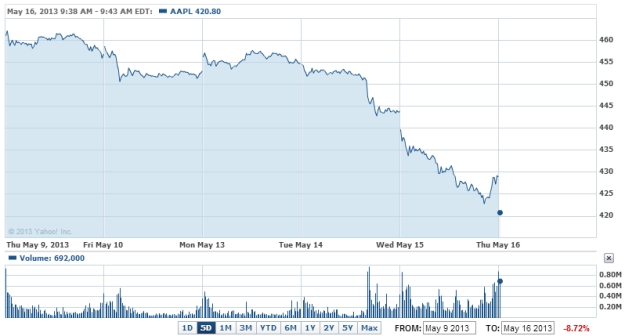 Don't Miss: Are iPhones Dangerous on Planes?