Is Apple Losing This Huge Market to BlackBerry and Samsung?
Is the Indian market slipping through Apple's (NASDAQ:AAPL) fingers? According to analyst Trip Chowdhry of Global Equities Research, Apple is indeed losing the hearts and minds of India's consumers due to a combination of several factors.
One of the major reasons that Apple is failing in the Indian market is because of a lack of Apple stores. India has laws that prohibit the Cupertino-based company from opening a retail store without also establishing a manufacturing base. As a result, the only Apple retail presence in India is through "Apple Reseller Stores," popularly known as "iWorld" stores. Via Barron's, Chowdhry notes that there are only four stores in New Delhi, and overall the stores are "very few in number and poorly located."
Another issue is Apple's lack of brand appeal in India. Whereas Apple has cultivated an ethos of quality and elitism in most of the rest of the world, consumers in India generally have little to no understanding of Apple's premium services and features.
With smartphones from Samsung (SSNLF.PK) and HTC being sold at approximately half the cost of an iPhone, many Indian consumers see no benefit in getting an Apple device. Chowdhry estimates that only about 60 million out of India's total population of a billion can even afford an iPhone.
In fact, the Indian market is practically an inversion of the U.S. smartphone market. Chowdhry notes that "Samsung and BlackBerry (NASDAQ:BBRY) have constantly advertised themselves as the 'elite' ones. In this way, they create an environment where they tend to mentally enslave the consumer to buy their products. In terms of advertising, one is likely to see a Samsung ad every 15 minutes on television, whereas Apple ads are rarely there. Apple ads are only flashed at the time when a new iPhone is being launched."
Because of Apple's lack of a retail presence, low brand appeal, and higher-priced products, the company has yet to make a major impact on this lucrative emerging market. However, a well-engineered advertising campaign directed at the Indian market that is coupled with a low-cost iPhone could quickly change Apple's fortunes in this increasingly important smartphone market.
Here's how Apple has traded so far this week.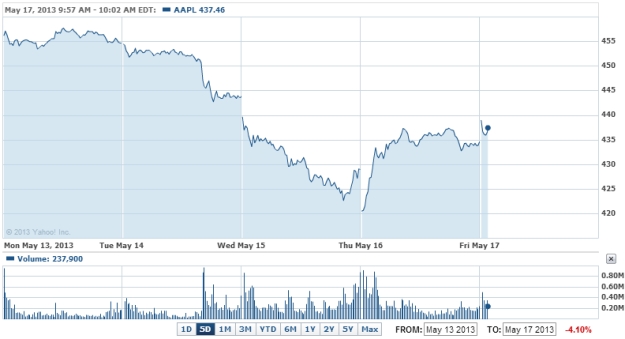 Don't Miss: Has Apple Lost Its Innovation Mojo?