Is Apple Losing Traction in the U.K.?

Several mobile carriers in the U.K. have seen a significant decline in the number of preorders for Apple's (NASDAQ:AAPL) iPhone 5C compared to preorder figures from previous iPhone launches, reports The Guardian.
One source told the U.K. publication: "We are seeing a decline in the number of pre-orders. They are 60 percent to 70 percent less than we were expecting, and we didn't expect them to be massively high given it's not the flagship model."
While Apple's plastic iPhone 5C has been available for preorder since September 13, only consumers in China were offered the option to preorder the iPhone 5S. Some analysts believe Apple's decision not to offer the iPhone 5S for preorder may be due to limited supplies of the flagship device.
According to The Guardian's source, mobile networks in the U.K. have taken as many as 75,000 to 100,000 preorders during previous iPhone launches. This year's preorders for the iPhone 5C are about "one tenth of those numbers," the source said.
However, it is also possible that the higher-than-expected cost of Apple's iPhone 5C is motivating consumers to wait for the iPhone 5S. In the U.K., the unsubsidized cost of the iPhone 5C is about $750 — only $128 cheaper than the flagship iPhone 5S.
It should also be noted that this is the first year Apple has released two different iPhone models simultaneously. This makes it difficult to compare this year's sales performance to previous iPhone launches.
Despite some carriers' reports of lackluster interest in the iPhone 5C, at least one U.K. retailer told The Guardian that iPhone 5C preorder numbers are "higher by double-digit percentage points" than the number of preorders for last year's iPhone 5. Both of Apple's new iPhone models became available to consumers at 8 a.m. local time Friday in 11 countries around the world.
Here's how Apple traded over the past week.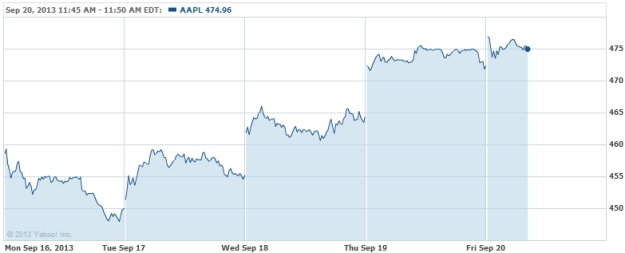 Follow Nathanael on Twitter @ArnoldEtan_WSCS
Don't Miss: Here's What Happened at Apple's China iPhone Launch.