Is Apple Lying About Its Involvement in Government Surveillance?
Does Apple's (NASDAQ:AAPL) PRISM denial ring hollow? After a recent Washington Post report revealed that Apple and eight other major U.S. Internet companies are involved in a secret government surveillance program known as PRISM, the Cupertino-based company was quick to issue a denial of the allegations.
"We have never heard of PRISM. We do not provide any government agency with direct access to our servers, and any government agency requesting customer data must get a court order," stated Apple spokesperson Steve Dowling. Google (NASDAQ:GOOG) and Facebook (NASDAQ:FB) issued very similar statements that also denied knowledge or involvement in this secret spying program.
Meghan Kelly at Venture Beat points out the uncanny similarities between each company's statements and notes that this may be a reason to doubt the truthfulness of these statements. For example, every company specifically denied that the government has "direct access" to its servers.
Google's Larry Page posted a response on the company's official blog that read in part, "First, we have not joined any program that would give the U.S. government — or any other government — direct access to our servers. Indeed, the U.S. government does not have direct access or a 'back door' to the information stored in our data centers. We had not heard of a program called PRISM until yesterday."
Via All Things D, Facebook stated, "We do not provide any government organization with direct access to Facebook servers. When Facebook is asked for data or information about specific individuals, we carefully scrutinize any such request for compliance with all applicable laws, and provide information only to the extent required by law."
There seems to be a deliberate and careful parsing of the language in each denial. Kelly notes that by only denying that the government has "direct access," none of the companies are excluding the possibility that the government has lots of indirect access. Indirect server access could mean that each company is simply downloading its server data to a separate hard drive and turning it over to the government.
Although each company was careful to only deny "direct access" to its servers, they also each gave a flat denial of ever having heard of PRISM's existence. However, this also doesn't necessarily mean that the program doesn't exist or that the companies have not been participating in it. If the government never provided the name of the program to the companies, then naturally they can deny that they have ever heard of it.
In other words, the government could be effectively mining all of the data from each company's server by simply using indirect access methods and never telling each company about a program named PRISM. This would allow the companies to truthfully deny that they have been providing direct access to their servers, as well as being able to truthfully deny their knowledge of any program named PRISM.
In this sense, the statements of denial from Apple and the other companies may not technically be lies, but might still be far from the complete truth. Apple closed up 0.76 percent, or $3.35, at $441.81 today. Here's how Apple has traded over this past week.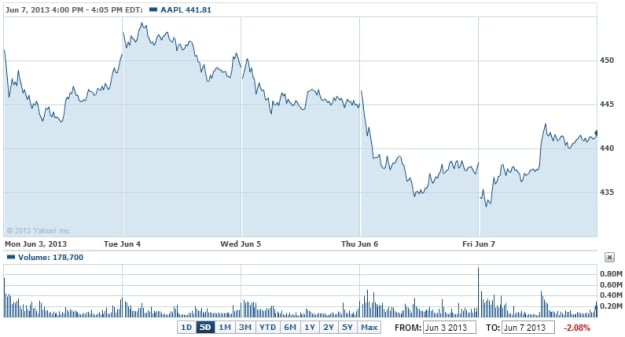 Follow Nathanael on Twitter (@ArnoldEtan_WSCS)
Don't Miss: 5 Things to Expect From Apple's WWDC.