Is Apple on the Verge of Securing a Samsung Sales Ban?
Does a recent decision by the U.S. Court of Appeals for the Federal Circuit bode well for Apple's (NASDAQ:AAPL) push to win a permanent injunction against Samsung's (SSNLF.PK) infringing products? Although the case is not even remotely related to smartphone technologies, the U.S. Court of Appeals' ruling on the Douglas Dynamics, LLC v. Buyers Products Company snowplow case may have a significant spillover effect on Apple's motion seeking a permanent injunction against a group of Samsung devices.
Last December, a jury found that 26 Samsung products infringed on Apple's patents and awarded the Cupertino-based company $1.05 billion in damages. However, U.S. District Judge Lucy Koh refused Apple's motion for a permanent ban on 26 Samsung products, based on her rigorous interpretation of the "causal nexus" requirement. Per Foss Patents, the causal nexus requirement for injunctive relief means that irreparable harm "must be proven to be specifically attributable to infringements as opposed to non-infringing commercial activity." In that case, Judge Koh felt that Apple did not prove this standard of irreparable harm.
However, the recent U.S. Court of Appeals decision, which granted an injunction over a snowplow patent, bears an uncanny similarity to Apple's arguments for a permanent ban against Samsung's infringing devices. Florian Mueller of Foss Patents notes that: "If Judge Koh had to rule on Apple's post-trial request for an injunction again and had to apply the Douglas Dynamics logic, she would have no other choice but to grant Apple a multi-patent permanent injunction against Samsung."
Mueller notes that the "causal nexus" requirement wasn't mentioned in the snowplow patents case which supports Apple's complaint that it was being held to a "higher standard than other patent holders." Apple has already cited this case in a "supplemental authority" filing to support its appeal for an injunction against Samsung's products.
Apple quotes the Douglas Dynamics ruling in its filing, which reads: "Where two companies are in competition against one another, the patentee suffers the harm — often irreparable — of being forced to compete against products that incorporate and infringe its own patented inventions." Based on the obvious similarities in the cases, patent expert Mueller believes that this "indicates that Apple is reasonably likely to win from this appeals court the permanent injunction Judge Koh denied in December."
Samsung has previously argued against this sales ban by saying that a ban on the disputed older products would have a detrimental side effect on the sale of its current products, which it claims are legitimate and not infringing on any of Apple's patents.
Here's how Apple has traded so far this week.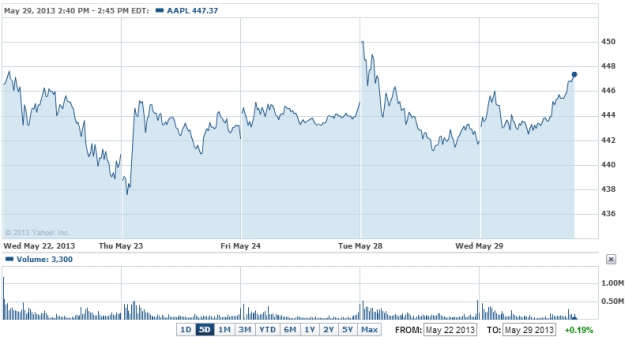 Follow Nathanael on Twitter (@ArnoldEtan_WSCS)
Don't Miss: What iPhone Hints Did Tim Cook Drop?