Is Apple Ready to Jump on the Smartphone Trade-In Train?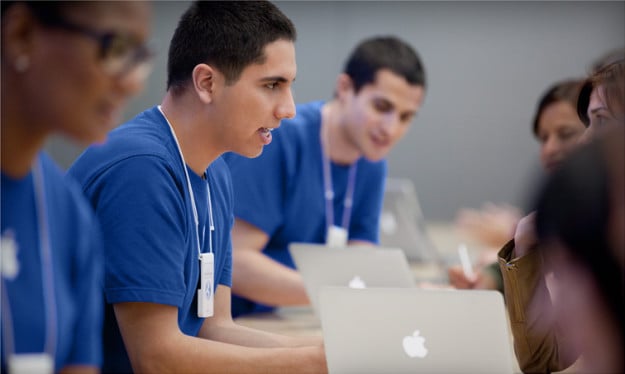 Despite a recent optimistic earnings report posted by Apple Inc. (NASDAQ:AAPL), Tim Cook and the company are still struggling to stay on top of the smartphone game, and that's why the CEO is moving closer to considering a trade-in program that rivals like AT&T (NYSE:T) and T-Mobile have already adopted, Apple Insider reports.
A recent report from the New York-based NPD Group might now even push the case further, because the firm's latest data illuminates that about 30 percent of smartphone consumers claim they would switch carriers if a different carrier offered a better trade-in deal, and almost 62 percent said they would be willing to go to a different retailer for a better trade-in price.
Thus, if Apple wants to stay up to date with tech companies' latest sales strategies and not lose consumers to these programs, it'll need to starting jumping on the trade-in train.
With the number of smartphone options currently being offered to consumers on the upswing, phone companies are working to set themselves apart with their packages and promotions. But while others have already teamed up with Brightstar Corp. to offer popular in-store trade programs, Apple has not — and has thus stood out in a less-than-appealing way.
That is why the Cupertino, California-based company is now rumored to be considering a partnership with Brightstar, and for good reason. If 55 percent of consumers are going to use a trade-in program for their next upgrade, as the survey suggests, then Apple will undoubtedly miss out on major sales if it fails to offer the same trade-in promises.
Apple Insider reports that these programs are appealing to customers because they allow them to visit retail stores and receive cash for their old iPhones. This not only then brings them into the store, making it more likely that they'll purchase other Apple products, but it also subsidizes the company's resale business overseas, where they can sell these previous-generation mobile devices.
In addition, a program with Brightstar could help Apple combat its struggling in-store iPhone sales reflected by a self-reported statistic that says less than 15 percent of consumer iPhone purchases are made in Apple's retail stores. Cook wants to up these numbers and is encouraging his retail employees to explain upgrade opportunities. It is then indisputable that an attractive trade-in program would increase the number of visitors that its retail stores encounter.
So if Apple wants to continue to compete with its rivals and have any chance of surpassing Samsung (SSNLF.PK) anytime soon, it will likely move closer and closer to the trade-in program option.
Even Cook has been vocal about the possibility. Apple Insider reminds us that in his earnings call earlier in July, he noted: "There are a number of channels that do trade-in programs now not only in the U.S., but in different regions. And the reason that it's so attractive around the iPhone is the residual value of an iPhone stays so high, and there is so much demand for it, and so that makes the trade-in programs more lucrative to a win-win from many points of view. But we haven't announced anything about us."
Don't Miss: Apple Gets Punked by Xiaomi and Pushed Down to No. 7 in China.